1. Book an alternative tour offered by a local company
How to travel differently is something that more and more people is looking for. Travelers are tired of the long narratives and the strict, monotonous guided tours. Take an Acropolis tour for example; it would be really difficult to follow up an ocean of information on architectural details and archaeological facts. Of course, although all this information is very important as well, what matters the most when visiting a country is to understand the culture of its people; to get inside their head and discover the mindset of the great civilization that left behind those wonders. Instead of getting lost in the narrative, search and find a local company that will give you a truly unique and interactive experience, rather than a tour. Listen to the stories and get to know the people that created the wondrous Parthenon and their way of life and culture. Look for the different, the unique and do not settle for the commercial. While a "skip-the-line Acropolis tour" sounds very interesting from a marketing perspective, choose instead a "Mythology tour of the Acropolis"; you will still skip the lines and will also get that something extra. Athens history was never again so reachable.
Tip: If you're visiting Athens with your family, you can choose a family-friendly activity for the whole family to enjoy! Have also a look at our Curated Trips section, for unique thematic trips to Greece that can be further customized for you.
2. Search for the authentic experiences
Most of us have been in the situation where we were part of a big group, guided in the most touristic places, listening to the most basic information about them and wondering whether the restaurant they dropped us off is a tourist trap (of course it is). This is easily avoidable! You can choose alternative tourism. Pick local travel companies that see you as a unique guest and not a tourist. They will offer you authentic experiences in small-group or private tours and make sure that you stay away from tourist traps. They will make local culture accessible to you with hands-on experiences and by meeting real local people. Allow yourself to get lost in the city and explore! When it comes to Athens, for example, the vibe shifts its local character and every alley is full of little surprises for the eager eye! Smell, see, listen, taste and feel the local vibes. Dive into the real Athens, the old shops, the local markets, the busy arcades and the authentic way of the Athenians' everyday living.
3. Look for the storytellers
Let your imagination fly; guide it to embrace its fantasy. Look for the storytellers. Storytelling, since the beginning of time, has been the most efficient way to educate children and adults. Why? because it is fun and people love stories! Stories are testimonies of life and convey experience. It is this magic behind the scenes and moments left in our memory that leave intense and last impressions. And you can imagine how many stories Greece has to tell from its rich mythological history… Join a tour with a local storyteller guide and leave your ink at the book of history. The philosophy on interactive tours is shifting. Now you can explore a great amount of guided tours based on a theme; a story, a myth, a legend or even the life of a beloved hero and through this storytelling you explore the past and present of Greece together with the locals!
4. Create your own story by designing your very own tailor-made tour
Let's suppose that no matter the options, you want to make your visit even more special and create a story of your own. Maybe a story from a book you have read as child or a movie that your kids have watched. You want to have the opportunity to make this dream come true. Thus, imagine that instead of booking sightseeing tours you book a tour which is based on your favorite book or movie about Greek mythology! Or you wish to create a completely tailor-made tour from scratch. A team of local experts can make this happen for you. You will enter a fairytale of role-playing and interactive games; you will time travel in an era of Gods and heroes! In that way, when you go home this time and you smell lavender for example, you will travel through time and space in the National Gardens of Athens where you had your herbal picnic in a secret garden. There is nothing more important than a personal experience, which is recorded as a separate event and is etched deep in thought.
5. Join tours designed by locals, delivered by locals
How to make the experience everlasting? Become part of the community, become part of the natives' everyday lives. Get to know the locals' way of thinking, their values and the secrets passed from generation to generation; in other words, delve deeper into Greek culture! Join a Greek cooking workshop for example. Visit the local market with your local guide, buy local ingredients for a home-cooked Greek meal and join him in his kitchen to cook together and enjoy your meal! Get behind closed doors and have a genuine discussion with the locals. Listen to what they know, think the way they think and see the way they see. The exciting part is that Greeks are most eager to share their reality with the world. The feeling of hospitality comes from their soul and has its roots in ancient times when all begun with the king of the Gods, Xenios Zeus, that protected the stranger in a stranger land. We invite you, the cultural adventurer that wish to dig deeper and satisfy your curious mind, to navigate through the neighborhoods frequented by locals and to share true moments of bonding with the local Athenians!
Tip: to experience the authentic side of Athens and blend in with the locals, join a themed walking tour that will awaken your senses!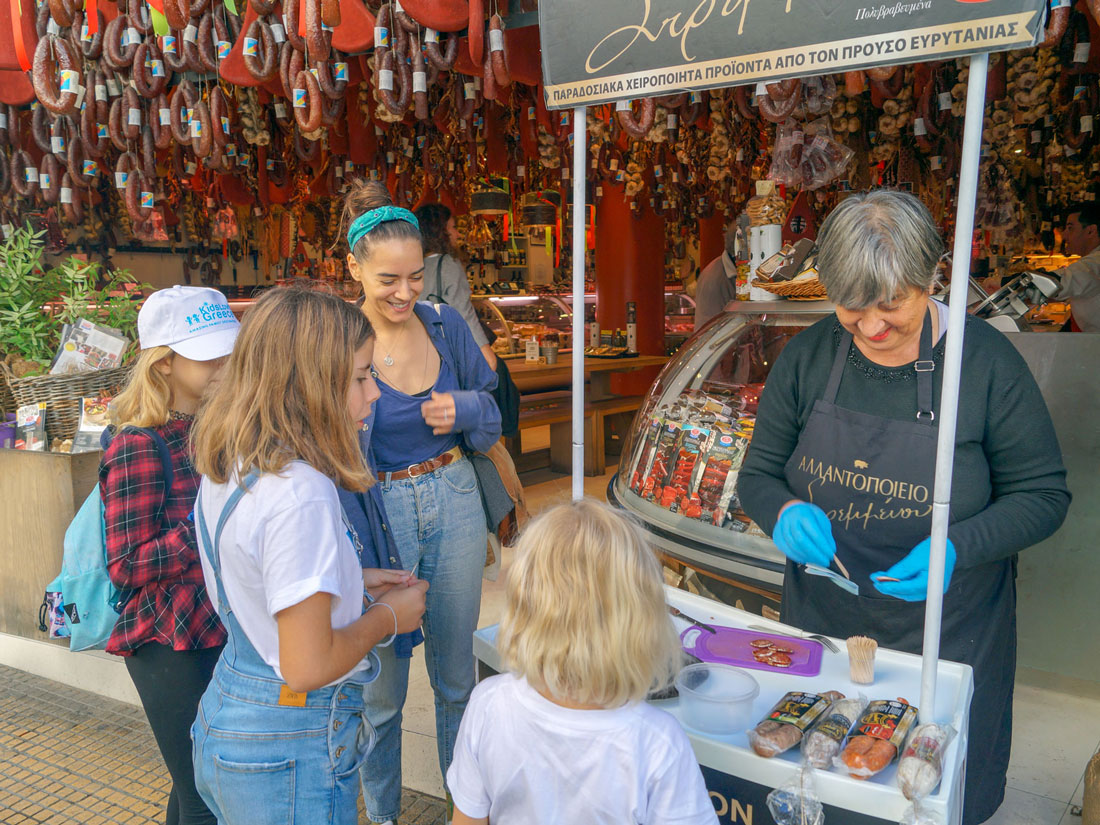 The first rule in order to make a traveler feel unique is to make them feel like a local. That is why natives are engaging more and more with the tourism industry because they want to share their traditions and stories, and travelers want to experience the true character of a city, town or village, to dig underneath the touristic surface. The answer to this is the locals! There are people who love their city, and they are eager to show their birthplace through their perception. So, whether you are thinking of a city break in Athens, or experiencing Athens like a local and receiving an in-depth cultural experience, you are surely in the right path of truly discovering Greek culture!