1. Athens combines everything!
Food, morning strolls, evening strolls, drinks, culture and shopping! Athens has it all; from the quiet neighborhood of Anafiotika under the Acropolis that will make you feel like you were teleported to a Greek island of Cyclades, to the local bazaars and the vintage markets that you can combine with delicious Greek food on the go. Eating while walking is a favorite Greek habit and there are countless shops on the road to make your pick depending on your appetite! Explore Plaka, the most picturesque neighborhood in the city, where the cobblestone streets, the little colorful houses and the white and blue tableclothed restaurants compose the perfect image! Take a seat for a Greek meze and ouzo at Psyri neighborhood and just walk to Kolokotroni street afterward where the night never ends!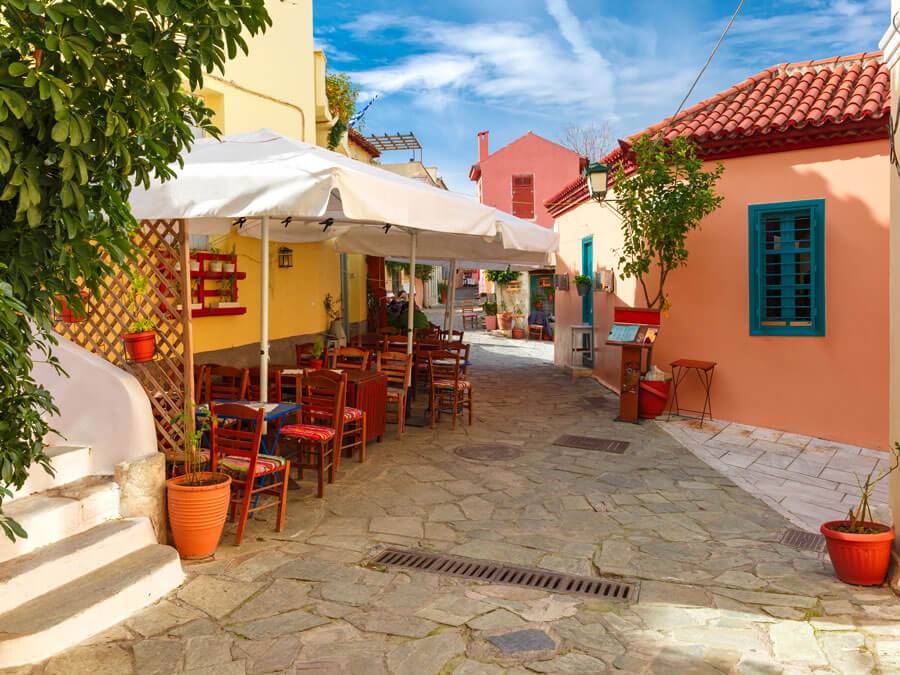 2. Amazing food
Warning: if you are a true foodie, you will get hungry while reading this! Greek cuisine is renowned worldwide for its rich taste, wide variety and nutrition value. What makes it truly special is the simple ingredients that come directly from Greece's soil and form the basis of most dishes: the olive oil, the bread, the vegetables, the honey, the wine and the fresh fish! Raw oysters, codfish, anchovy, shrimps; quinces, clams, mussels and crabs; as you walk the streets of Athens, earthy, enchanting scents will reach your nose from the small windows. You will step closer to the window and you will see a big pot in a home kitchen and something delicious being cooked! Stuffed peppers and tomatoes, spinach rice with feta, pastitsio and moussaka are only a few of the new tastes and traditional dishes you will discover. But most of all Greeks love pasta! They cannot live without spaghetti and they make it with every possible sauce, white or red, and with every possible accompaniment. Hungry yet? Athens offers it all in excess!
3. Immense beauty
Athens might look chaotic at a first glance but give it a chance and you will fall in love with her. I will create an image for you. Follow the words as a path to uncover the city's immense beauty… Climb on a sunny day on Anafiotika, the 'secret' neighborhood, breathe in the Cycladic air, walk the Dionysiou Areopagitou street with an ice cream cone in hand, hang out with the locals in Monastiraki's old bookstores, enjoy the sunset from the top of Filopappou Hill or Areopagus Hill; walk the streets of Metaxourgeio and Psyri neighborhoods and you will find yourself in front of amazing graffiti created by famous street artists from all over the world; walk under the shadow of the Acropolis Hill and the Parthenon Temple, with the protective gaze of goddess Athena always on you; take a sesame bun and enter the green paradise of the National Gardens next to Syntagma Square; discover pieces of history hidden inside the Gardens; watch the locals rushing with a coffee in one hand, bumping into friends, smiling and waving at each other loudly. Beauty is everywhere in Athens and its ancient aura may bring you closer to the meaning of life!
You may also like: Best Places to Eat in Athens - Food Guide (by Locals)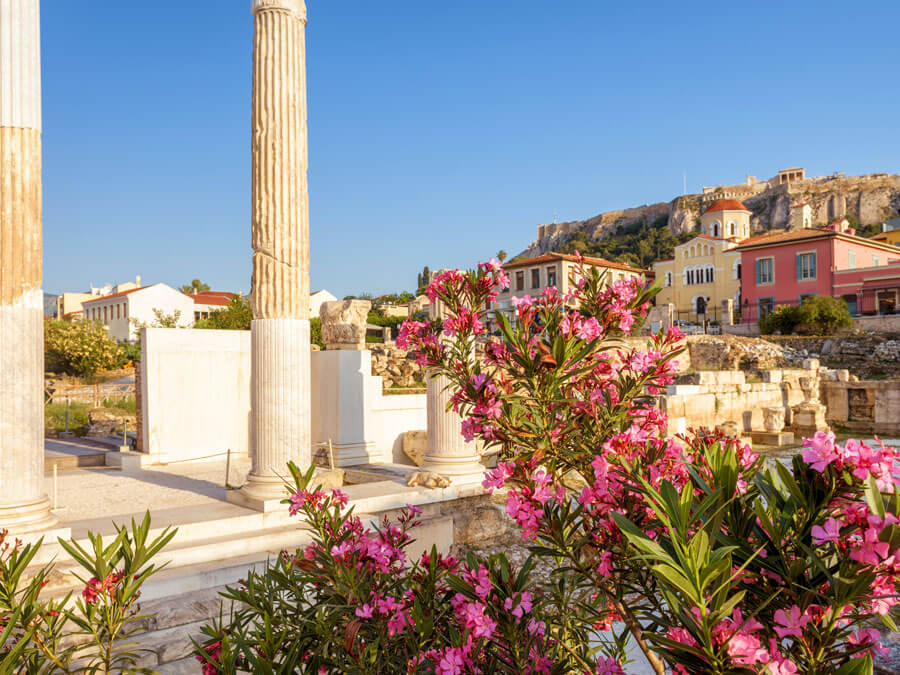 4. Street-food culture
Foodies coming for a city break will love the street food culture of Athens! From traditional cheese pies and gyros to juicy falafel and Asian bao buns, downtown Athens offers countless options for something fast and delicious! Until recently, street food in Athens was largely intertwined with souvlaki spots and bakeries. From university students looking for a quick morning bite as they head to the class to shoppers looking for extra energy and late-nighters, souvlaki was almost their only option. For the past years, there was a huge burst on the number of street food options offering refined dishes, vegan food and tastes from all over the world. Athens has become a street-food paradise and you will find street vendors and little food corners all over its center.
Tip! You should also try the famous Thessaloniki bun, also known in Athens as "koulouri of Psyri"!
5. Wineries
Food and wine almost come together nowadays and there is nothing better than enjoying a delicious dish accompanied by a good wine that matches! Although not very well-known, Greece has some amazing varieties of grape, cultivated in unique soils, like the volcanic soil of Santorini. Greece's wine offerings are becoming more and more popular in the world and you will understand why if you join a wine tour! Athens also offers its own wine variety, known as "Savatiano". It is the only European capital with vineyards and wineries on the outskirts of the city. Grapes and wine have been, for over 3,000 years, essential products of Attica land. Ancient Greeks had a god of wine, Dionysus, in their Pantheon after all! Athens has been producing wine for thousands of years and today these vineyards and wineries are beautiful estates waiting for wine lovers to enjoy them, accompanied by local cheese options and Greek olives.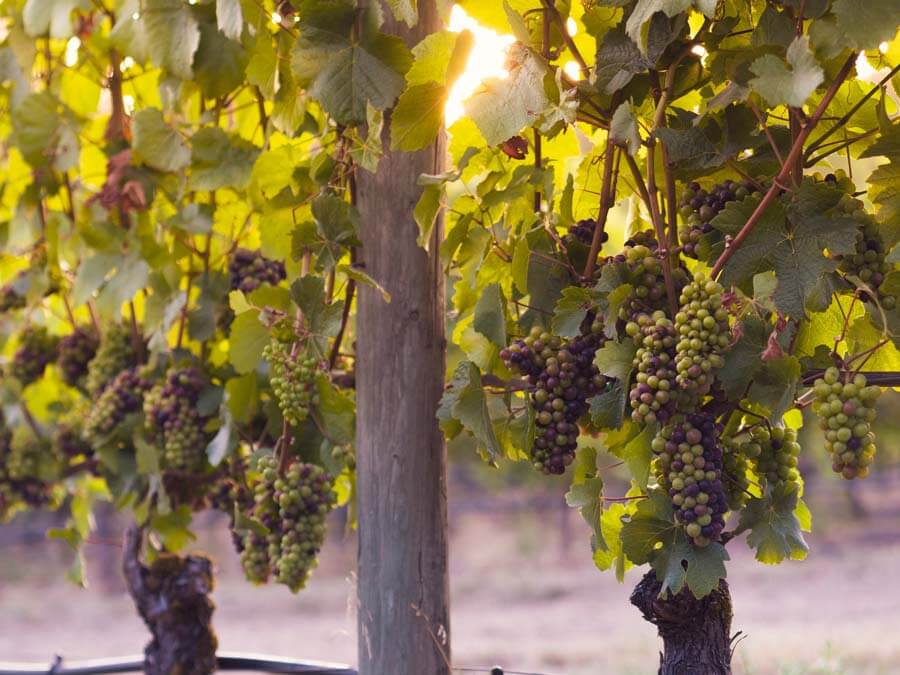 6. Bistro-bars
The culture of wine bistro-bars is calling out the foodies and wine lovers of the world! This is this culture that unites friends and family, expands discussions that will last until the morning hours with the extra perk that it is accompanied with great food! It's a culture that becomes a favorite habit in Athens. Of course, if you want to try the products of the Greek land this is a great way to do so. There are many bistro-bars in the center of the city where you can enjoy the local varieties but also wines from all over Greece and the Mediterranean, and travel through taste.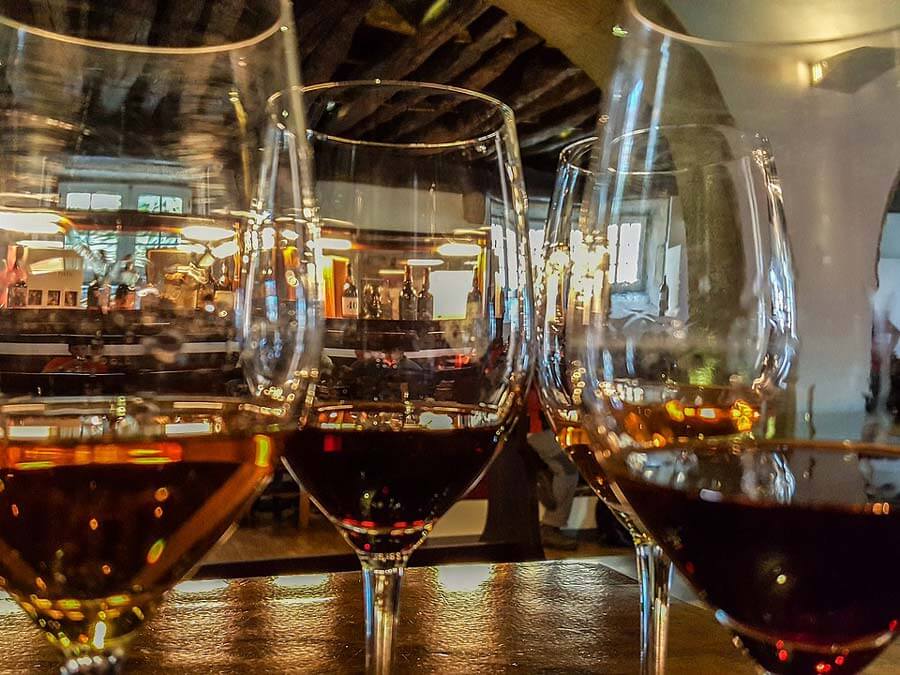 7. Eat with music - the culture of tavernas
Everyone loves music and foodies love food. Athens combines those two and it is a huge success! It is in the core of Greek culture that a proper meal should be accompanied by music - and if it is live music, even better! The squares and streets of Athens are filled with traditional "tavernas", serving authentic Greek food with a local band playing live Greek music. Enjoy folk nights with piano or guitar, mpouzouki and mpaglamadaki, and discover the Athenian "koutoukia", as you enjoy delicious dishes with traditional Mediterranean flavors in a warm atmosphere. Greece is about food, music and dance!
Hint! Try to avoid the tourist traps that advertise on the street traditional Greek food but serve dishes of lesser quality in higher prices. Find a local to guide you to the local corners and the authentic tastes.
8. Food tours
Food tours are becoming a big thing in Athens. And why not? Is there a better way to discover a city and its culture than through a food tour in its heart? With experts on the field and locals above all, Athens comes to life in the form of vibrant colors, authentic flavors and distinctive scents! The city shines and you get the perfect opportunity to discover Athens' secret corners and hidden alleys, full of family-run shops and local spaces. Imagine a stroll rather than a tour, exploring the city's neighborhoods and hidden paths as well as merchant streets, while forming true bonds with the locals. A food tour is a unique opportunity for a visitor to engage in a journey past the ancient sites and to feel the local vibes of a hidden square, to awaken their senses through traditional Greek scents and flavors! The tour experience itself is particularly enjoyable. The guides are Athenian-lovers and foodies themselves and people that you can become friends with during your city break. You should definitely try it, it will be a gastronomical adventure to remember!
Tip! Join our small-group storytelling food tour for a wonderful time in the center of Athens, tasting traditional Greek food and discovering fascinating stories behind each bite!
9. Traditional sweet spots - the Greek spoon sweets!
Athens has so many traditional - but also modern - spots for the sweet tooth foodies! Flavors that are constantly changing depending on the fresh ingredients of each season from the Greek soil. There is no better thing than enjoying a delicious dessert after a nice meal, that will make us want to keep that memory forever. In Athens, you can discover sweet delicacies that you can't find anywhere else in the world! From the traditional 'loukoumades' to 'mpougatsa with cream' and the honey-rich 'kataifi' to the mouthwatering 'galaktoboureko', your city break better be a big break cause you will need many days to discover them all! Greece is also famous for its traditional spoon sweets, art coming down from generation to generation and the Greek grandmas know how to make best! If you know where to search, you can find authentic spoon sweets in Athens. A local guide can come in handy here as well.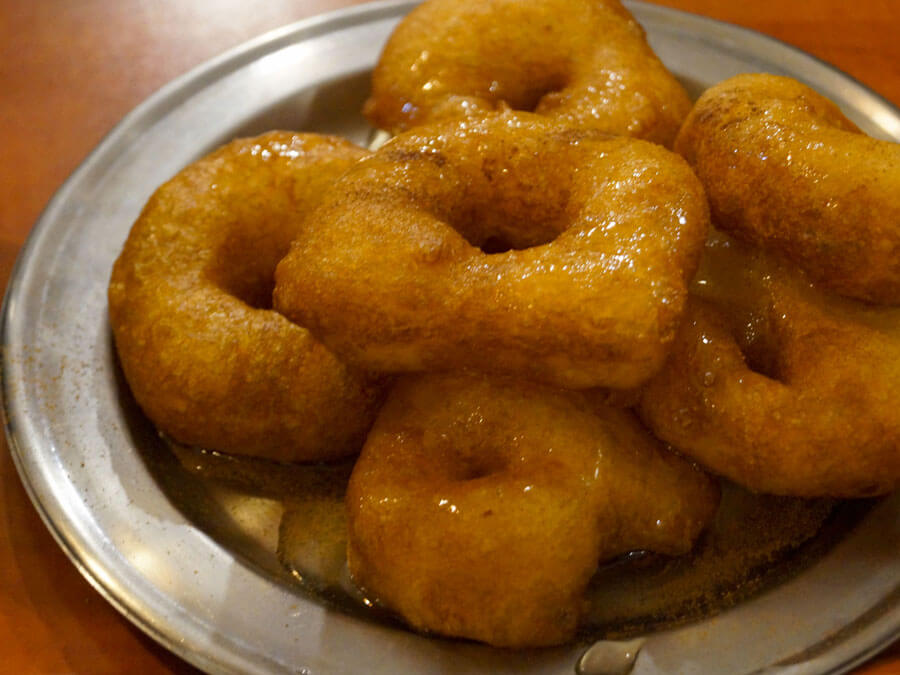 10. The coffee culture
Any visitor to Athens is surprised by the unbelievable number of cafés and the fact that all of them are filled with people! Drinking coffee in Greece is a ritual and it is not seen as a quick drink to get the caffeine in your blood. In Athens and generally in Greece, coffee is time-consuming. The expression "let's go for a coffee" is very common to hear in Greece and Greeks don't just mean to drink coffee. They mean let's go to a café and sit there for hours, exchanging our news and having fun while slowly enjoying a cup of coffee. Coffee in Greece is a simple and everyday delight, best enjoyed with friends. Greeks have their own variety, the famous Greek coffee. It is a hot coffee that is enjoyed even in the summers. There is a whole ritual behind the drinking of this coffee, from its preparation to its enjoyment and the fortune-telling powers of the cup. Until some years ago, the most famous cold coffee in Greece was the "frappé", an instant iced coffee drink. However, espresso and cappuccino have slowly become very popular with the Greeks. Two Greek variations, Freddo Espresso and Freddo Cappuccino, which combined the rich flavor of espresso with the Greek need for frozen, refreshing drinks, contributed to the displacement of the famous frappe to the almost absolute adoption of espresso! During your city break in Athens, it is highly recommended to experience this laid-back coffee culture of Greece in nice terraces with a panoramic view of the city and Acropolis, or in hidden squares, away from the hustle and bustle of the city.
Tip! If you wish to learn more about the ritual of Greek coffee and discover more Greek customs around food and drinks, join our scents and flavors walking tour of Athens.
11. The prices
Eating out is an easy and wonderful way out of our routine, especially when you are visiting a new place for a city break, but this occurs as long as it doesn't make us sweat when the bill arrives. But fear not! Athens is relatively cheap in prices, and even if we are counting years since the crisis outbreak, prices are still at a reasonable level. Especially the street food in Athens and the Greek dishes in the tavernas are of low cost while offering authentic, good quality! Of course, there are options for every pocket bur Athens will reward the young city breakers out there too.
12. Food with culture
Athens is well-known for its rich history and its epic monuments. The good thing about our city is that all the famous monuments are located in the center of the city! In other words, you can explore sites like the iconic Acropolis, the gigantic Temple of Olympian Zeus, the Arch of Hadrian and the Ancient Agora, as you make your way through little streets and alleys with local shops and countless food spots! Start your morning exploration of Acropolis with a Thessaloniki bun in hand. Then get lost in the colorful alleys of Plaka with a Freddo Espresso or an ice cream. Get a souvlaki from the street and marvel at the Temple of Zeus, satisfying your hunger and curiosity at the same time! Grab a sweet loukoumas and head to Athena's Gate or enjoy a Greek cocktail while watching the sunset from the Rock of Ares. Can you think of a better city break than this?
13. Excellent weather and breeze from the Aegean Sea
Athens is bathed in sunshine almost all year-round, and even in the heart of winter (January and February), the temperature is mild and ideal for a city walk! As a seaside city, you can take a walk near its beach and feel the salty breeze on your skin. You will find street vendors even there, ready to satisfy your appetite while walking! A sunny day can make us feel good and it is essential for our health - mental or not. Downtown strolls, seaside walks, delicious food and rich history, swimming at clean, sandy beaches, majestic sunsets at Cape Sounion and pink sunrises in the morning… all these images are elements that Athens offers generously every day and wait for you to experience them.
14. Top photo locations
Athens is a very beautiful city. It is a city that combines things that no one else can find: mountains, seas, architectural rhythms of many centuries, sunshine, extremely dry climate, bearable road traffic, greenery, diversity. It is a city that wakes up very early and sleeps very late. A capital with five million inhabitants and millions of corners waiting to be captured in your photographic lens! From the historical Acropolis and the picturesque Anafiotika to the port of Piraeus, Athens offers beautiful and instagrammable photo locations. From Areopagus Hill, you can see the whole of Athens and capture a wonderful sunset. At Yassemi steps in Plaka, you can capture a colorful alley filled with smiling people enjoying their coffee. At Syntagma square, you can capture the Greek soldiers with their traditional uniforms as they parade. Inside the National Gardens, you can photograph more than a thousand varieties of trees and plants that flourish in Mediterannean soil! From the Temple of Poseidon in Sounion, you can capture the blue horizon of the Aegean Sea with the eternal ruins of the Sea God. There is so much beauty in Athens that awaits your lens to be captured!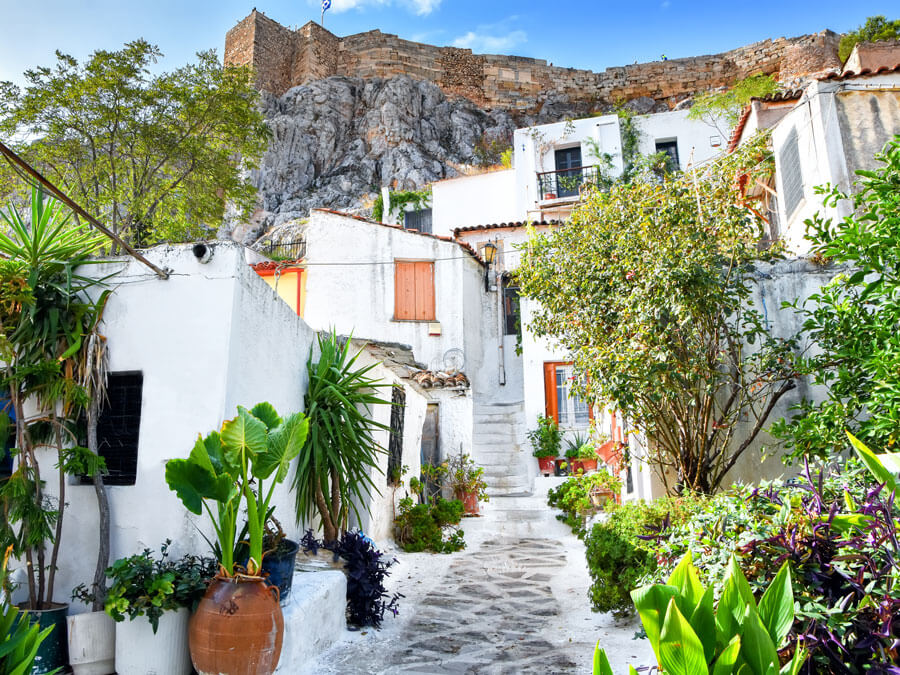 15. The memories
In every corner of Athens, the vibe shifts its local character and every alley is full of little surprises for the eager eye! Smell, see, listen, taste and feel the local vibes. Dive into the real Athens, the old shops, the local markets, the busy arcades and the authentic way of the Athenians' everyday living. A "strong" image may remain etched in our memory for years, the same thing happens with a sound or a touch. We hear it, we feel it. But most of all it is the flavor and the scent that remain indelible in the human brain, inextricably bound with memories that will never go away. By visiting Athens - even for a short city break - you will fall in love with her.
If you found this article useful, chances are you are a foodie planning a city break to Athens. Then you should also check our list of the food and drinks you must try when you visit Greece. If you are visiting only for two days, time matters and we have created a 2-day itinerary to enjoy Athens like a local! If you wish to plan your whole trip to Greece around food, have a look at our curated trip "Greece for Foodies: A Gastronomic Odyssey", which can be customized for you.