1. Basic Greek words for greetings
Geia / Geia sou / Geia sas
Translation: Hello
The Greek word "Geia" or the phrase "Geia sou" are used for greeting someone friendly. "Geia sas" is the plural version, which is used for greeting more than one person or if you wish to be more polite (for example, greeting someone older or someone you are not familiar with).
Kalimera
Translation: Good morning
Although it may sound very formal in English, in Greek we use this greeting every single day, even to our own family and most familiar persons. It is the most common (if not the only) greeting after you wake up in the morning. It is mostly used until 12 pm. After that, you should use the next one on the list.
Kalispera
Translation: Good evening
This Greek word is used as a greeting after 12 pm. It is a bit more formal, however. To our most familiar faces, we Greeks usually use the first greeting, "Geia".
Kalinihta
Translation: Good night
When you want to wish someone good night, you can say "kalinihta". You should say it when you or the other person (or both) are about to go to bed or back home for the night.
Ti kaneis? / Ti kanete?
Translation: How are you?
This Greek question is used when we want to know how the other person is doing. But it is also a common thing to ask right after you say hello ("geia / geia sou / geia sas"), which makes it a kind of greeting. If someone asks you that question, you can reply by saying "kala eimai, esi?" (I am good, thank you, how are you?).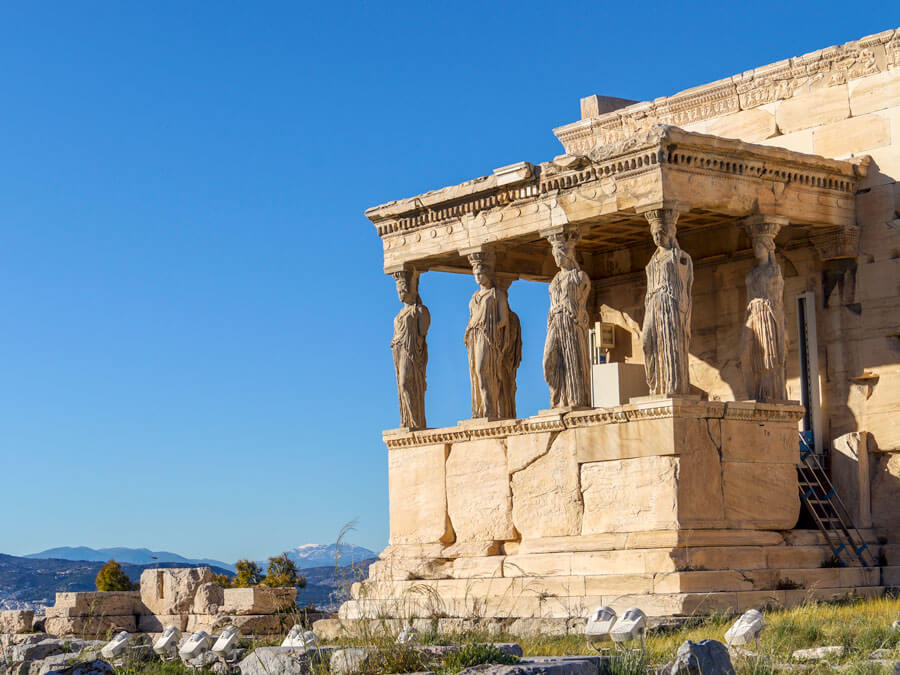 More like this: Top 10 Tips to Know Before Traveling to Athens
2. Greek phrases to ask for directions
Navigating in a foreign country, especially in a city, can be hard. Even with the use of GPS and your mobile phone, it is almost certain that you will need to ask for some direction at some point. If you find yourself on a Greek island, looking to visit remote beaches or traditional mountain villages, chances are you will encounter mostly old people (the permanent residents of small islands in Greece) who do not speak English. Then the below Greek words and phrases will come in handy!
Pou ine to…?
Translation: Where is the…?
Pou pao sto…?
Translation: How can I get to…?
Pou mporo na vro to…?
Translation: Where can I find the…?
Tha ithela na pao…
Translation: I would like to go to…
When traveling to Greece, you will always need to carry some cash with you since some places (like antique shops or flea markets) do not accept card payments. You may need cash also if you are using the Metro in Athens since card payment in the vending machines are not always reliable and stop working. So, it's very important to know how to withdraw money at any time and in times of need. Here are two phrases in Greek that you can use to ask for assistance:
Pou mporo na vgalo hrimata?
Translation: Where can I withdraw money?
Pou einai to kontinotero ATM?
Translation: Where is the nearest ATM?
3. Greek phrases to order food or drinks
Food is always a huge part of our traveling experience and Greek gastronomy will surely reward you! Ordering food in Greek will surely make the experience more unique. Nowadays, almost all cafés and restaurants have menus in English as well, but you will find some authentic family places in the islands where the famous grandma's food is being served and you bet the grandma doesn't speak English! So, here are some useful Greek words that the grandma will understand:
Tha ithela na parageilo parakalo
Translation: I would like to order please
Tha ithela na eho…
Translation: I would like to have...
Tha mporousa na eho ligo nero?
Translation: Could I have some water?
Tha ithela ena potiri krasi/mpira/ouzo
Translation: I would like a glass of wine/beer/ouzo
4. Useful Greek word and phrases for every occasion
Being polite can excite anyone, especially when you are a stranger to the locals! "Thank you" and "please" or "you're welcome " are some of the most basic words one can use in Greece to appear friendly and initiate a conversation. They are just one word and easy to learn and remember:
Efharisto!
Translation: Thank you!
Parakalo
Translation: You're welcome or please
Suppose you have just asked a local for directions or information, they explain to you, but you do not understand what they are telling you. Or someone is speaking to you in Greek because he thinks you are a Greek or he only speaks Greek. What can you do then? Well, there is a very simple Greek phrase for that:
Signomi, den katalaveno
Translation: I am sorry, I don't understand
At some point, you will surely find yourself in a situation where you wish to buy some local product or even a souvenir, to remember the great time you had in the land of myth. There is a simple Greek phrase to ask if you are wondering how much the product costs:
Poso kani?
Translation: How much does it cost?
Say, you're with a great company, dining and drinking together. How do you toast in Greek? The Greek toast is actually a wish, meaning "to our health". Raise your glass, clink your glasses with the others, make sure to keep eye contact with your company and then say:
Yia mas!
Translation: Cheers!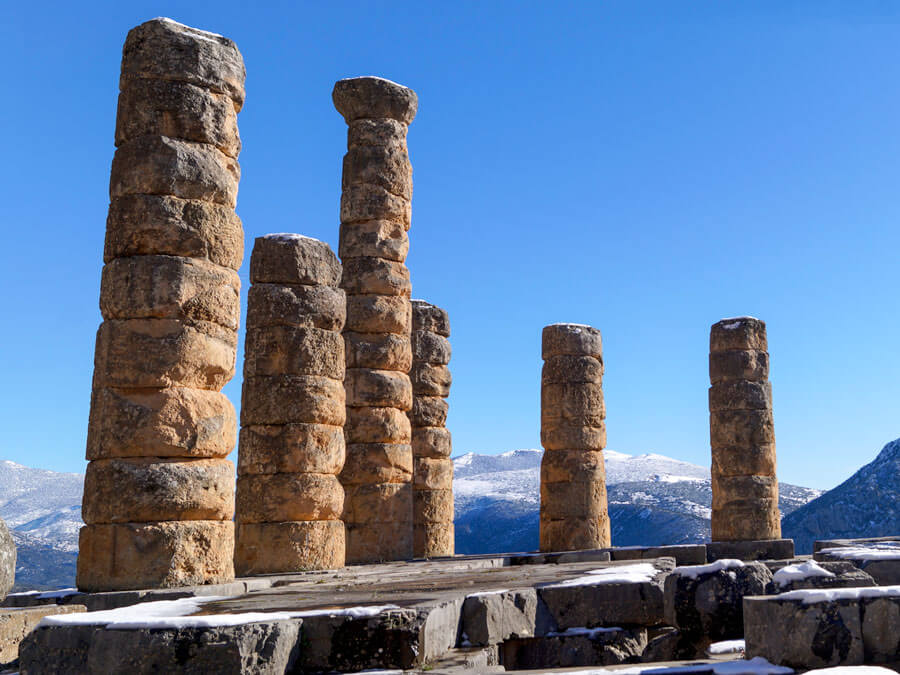 If you like partying and clubbing, then you will definitely need to know the next one:
Aspro pato!
Translation: Bottoms up!
If this phrase keeps being repeated in your company then you should know the next one as well, for your own safety:
Apo pou perno taxi?
Translation: Where do I get a taxi from?
If you wish to ask for the check in Greek you can say:
To logariasmo parakalo
Translation: Can I have the check please
Tip! Instead of phrasing your wish to have the check, you can instead raise your hand and pretend to write something in the air (or you can do both simultaneously). This is mostly used in Greek taverns, but better avoid it in fancy restaurants.
Finally, let's hope that you will never need it, but just in case, you should be able to ask for help in Greece in case of an emergency. The word is:
Voithia!
Translation: Help!
5. If you are visiting during Holidays (Christmas/Easter)
Greece is an amazing destination for Holidays like Christmas and Easter! Christmas is always better in big cities, like Athens. The capital of Greece lightens up and organizes many events in various public squares. Although it is a bit cold, the atmosphere is really 'warm' and festive, with people shopping, kids signing the carols and Santas offering gifts and smiles. The useful Greek phrase, in this case, sounds like:
Kala Hristougena
Translation: Merry Christmas
You may also find useful: Christmas in Athens: Top Things to Do and Know
When it comes to Easter Holidays, Greeks like to get out of the city and visit their homes in the islands or the countryside. The Greek islands are the preferred destination for Easter, even for Greeks. There are so many different traditions and customs from island to island. For example, in Corfu, they smash hundreds of red ceramic pots and vases by throwing them from their balconies down to the street! Chios is famous for its rocketwar and Pyrgos of Santorini for its awe-inspiring epitaphs. Wherever you go in Greece during Easter, you will hear the same Greek phrases:
Kali Anastasi
Translation: Good Resurrection
Greeks wish "Good Resurrection" during the Holy Week and the Holy Saturday.
Hristos Anesti
Translation: Christ has risen
This is used after Holy Saturday, to which you should reply:
Alithos Anesti
Translation: Indeed He has risen
Kalo Pasha
Translation: Happy Easter
More like this: Top 10 Tips to Know Before Traveling to Athens
We hope that the above basic Greek words and phrases will prove useful to you during your vacation in Greece. If you need inspiration on places to visit in Greece, have a look at:
Whatever you choose, Greece will reward you with unique memories and an amazing time!