*This Athens food guide is not sponsored by any of the businesses mentioned herein and there is no affiliation whatsoever. It is made with love, by locals who have picked their favorite places in Athens to eat and where they are 'regulars'.
You may also like:
Greek Gastronomy
One of the authentic cultural elements of a place is its gastronomy! The peculiarities of the taste of a region's cuisine are often linked to the quality of its society. And that is true for Greece and especially Athens! Taste and food for Athenians seem to be a way of communication, a way to achieve a place in someone's heart. You may have heard the famous Greek saying: Love comes through someone's stomach… Greek gastronomy has a history of about 4,000 years! It is based on pure and unique quality Greek products. In fact, it was Archestratus who in 330 BC wrote the first cookbook in history.
In the Greek food tradition, the tasty result is in harmony with the high nutritional value. The evolution of the ancient roots and the fusions from the East resulted in what we call today 'Greek Mediterranean cuisine'. Dozens of scientific studies have shown the positive impact of a balanced Greek diet on health, beauty and longevity. In addition, the Greek food culture has traditionally added an extroverted social dimension. That is, combining culinary satisfaction with entertainment and communication while preserving the echoes of ancient treasures… And the culture of taste is excellent and complex. For Greeks, the concept of gastronomy is always intertwined with quality - not quantity - and of course, authentic tones. Gastronomic enjoyment is a noble act and an expression of the particular cultural identity of each country and each people. and there is no better place to start exploring Greek culture than its gastronomy!
Food Culture in Athens
Greeks love their eating rituals. Food culture in Athens is vast and not only traditional Greek! However, since you are visiting Athens, you probably wish to discover and taste the authentic Greek habits, and rightly so. Thus, we will focus on those.
Breakfast for Greeks is not essential, especially if the busy Athenians are rushing to work; the solution for an empty stomach in the morning is mostly coffee, coffee, coffee. Add some coffee to that and maybe a Thessaloniki bun, - or "Koulouri tou Psyri" as we call it in Athens; a freshly-made round bread with sesame. Because Athenians have very busy lives, their lunch is usually reduced to "grabbing a bite" from a street-food corner, from souvlaki to falafel wraps.
If it is the weekend, lunch can be the main event of the day, with the gathering of friends or family. That meal will probably include roasted delicacies as well as homie grandmother-like meals. As for dinner, the later we visit a restaurant the better! You will never see the Athenians eating dinner before 9 pm. This is partly due to their work hours but mostly because it is a habit to finish our day with a late dinner with drinks.
Brunch is something that was recently added to the local food culture and the Athenians embraced it like no other. You will find great brunch served in many places downtown. The perk is that in Athens, it lasts more than the actual brunch hours (sometimes even until 6 in the afternoon - yes, you guessed right; many drinks are involved)!
Breakfast in Athens
Are you wondering where to eat breakfast in Athens? It's a fact that Athenians are not fond of breakfast. In Greece, 50-60 years ago, people ate a lot in the morning because they did agricultural or heavy manual labor. Then, they gradually came to the big cities, like Athens, starting working crazy hours and the habit of breakfast was replaced with the habit of coffee.
But where do Athenians find those "quick bites"? Don't worry there are everywhere! You will notice that every few meters there is a yellow stand selling "koulouri tou Psyri", which happens to be the cheapest but very nutritious Greek breakfast! If you want to buy it directly from its maker, then you need to head, where else, to Psyri neighborhood and the store named "koulouri tou Psyri".
In addition, Greeks have a great love for puff pastry and leaf pies ("phyllo"), which are a great choice for a good breakfast meal. Visit "Aristokratikon" and "Ariston" on Voulis Street for a great sweet bun and many traditional pies. Or head to "Makedonikon" on Exarcheia district, on Ippokratous and Solonos Street, for an exceptional phyllo cheese pie! Visit "7Cactus", at Dimitrakopoulou Street in Koukaki area, if you want to try Greek street food breakfast in a beautiful garden. Alternatively, head to "Ather", at Athenas & Ermou corner if you are in the mood for a rich breakfast with traditional touches, while sitting on velvet sofas and gazing at Monastiraki square. And of course, one of the locals' favorites, "Montakiou", in Stoa Korai. If you want to start your day in one of the busiest arcades of Athens, this is the place to go!
Where to eat brunch in Athens
Brunch in Greece started by those who "had a long Saturday night out" and consequently woke up very late and very hungry. That is to say, besides coffee (or juice) they needed a good meal to "recharge". From croissants and toasted bread with honey to omelets, hamburgers and cheese soufflés. When we're talking about brunch, everything is allowed!
Depending on the time you will head for brunch, you can adjust your options from sweet dishes, such as cakes, honey toasts, jams, yogurt, etc., to omelets, cheese or spinach pies, fries, or evens soups! Perk: this is the breakfast you are allowed to drink alcohol too! My personal favorite aperitivo: the Mimoza: orange juice to honor breakfast with sparkling wine to honor lunch!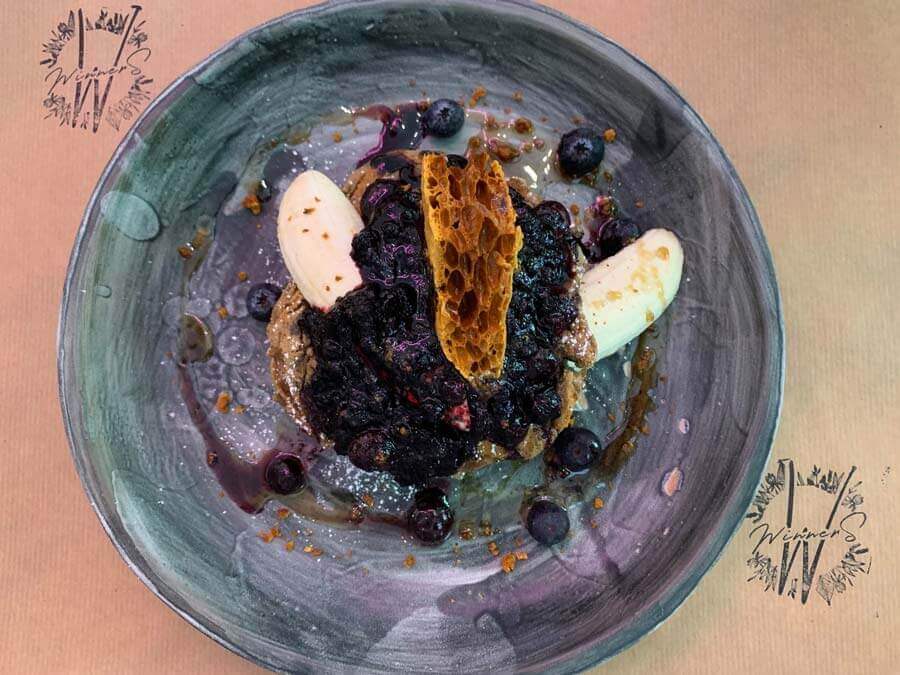 There are many great places to eat brunch in Athens, most of them serving until late in the afternoon. One example is the "Beauty killed the beast" at 14 Paramythias Street in Kerameikos area. It serves you a fusion of traditional and modern flavors. "Mama Roux" at Aiolou Street is one of the greatest choices for brunch, with delicious scrambled eggs and fluffy pancakes. "Philos" at Solonos Street in Kolonaki area is ideal if you want to spend a little more for a classy and elevated meal, where even the prime minister of Greece gets his brunch…
Try "Black Duck - The Garden", at Paparigopoulou Street, opposite the Klauthmonos Square, and taste the elegant dishes of the restaurant in the beautiful gardens of Queen Amalia's summer house. Don't miss "Zampano", at Sarri Street in Psyri area! Located in the theatre district of Psyri, you can find the perfect brunch in this Greek bistro and wine bar! Finally, "Estrella" is located at Romvis Street in Syntagma area. In a paved alley, hidden from the city's noisy streets, you can taste the popular among the locals 'Estrellas' brunch!
Best places for lunch in Athens
It is noon in the center of Athens, aka lunch o'clock! Whether you are catching a lunch break between activities or shopping and touring got you hungry, or you are just enjoying the city's merchant triangle, we have the best and most affordable places for you to enjoy authentic, homemade food!
Greeks' lunch is a really late lunch. It is an after 14:30 kind of lunch. Back in the old days, they used to have a proper lunch with family around the table. Today, however, this type of meal will be consumed at work. But, don't forget the weekend! Especially during the summer weekends, we love nothing more than to gather with our friends in a fish tavern and spend hours after hours eating "mezedes", drinking ouzo or tsipouro and laughing!
The day includes many meals but a rich lunch is often overlooked. So, let's see where you could enjoy a great, authentically Greek lunch in Athens! "To Paradosiako" at 59 Κοlokotroni 59 Street, is your first choice if you are looking for a traditional feeling in a rustic tavern with traditional 'souvla'! "Crete" (Κρήτη) is as authentic as it can get! It is a traditional and very small Cretan restaurant which will definitely serve your appetite. Located at 5 Veranzerou Street in Kaniggos Square, it mostly hidden in an arcade. "Kolibri", at 9-13 Empedokleous Street in Kallimarmaro area, is a place to eat with the locals. Have a taste of the pizza and the pasta of one of the most established places in the heart of Athens!
If you are looking for a 'taste of old Athens' then "Tzitzikas & Mermigas" at 12 Mitropoleos Street is what you are looking for (just a few meters next to Syntagma Square). Old Greek advertising posters on the walls, sieve lamps and cheerful colored bottles with liqueurs, enhanced by the local folk Greek music. They welcome you with a shot of raki, olives and pickled peppers, and they offer you many dining options from meat to seafood.
Where to enjoy dinner in Athens
Just as the sun sets, Athens is transformed into a luminous city. The night adds a magical note in everything, from the neoclassical buildings, the soft lighting, the tranquility, the busy streets and so many other factors that compose a unique setting... Breathing in all this vibrant life someone might get hungry. Dinner in Athens is magical as the night itself! Dinner is Greeks' favorite meal and we want to take our time and enjoy it…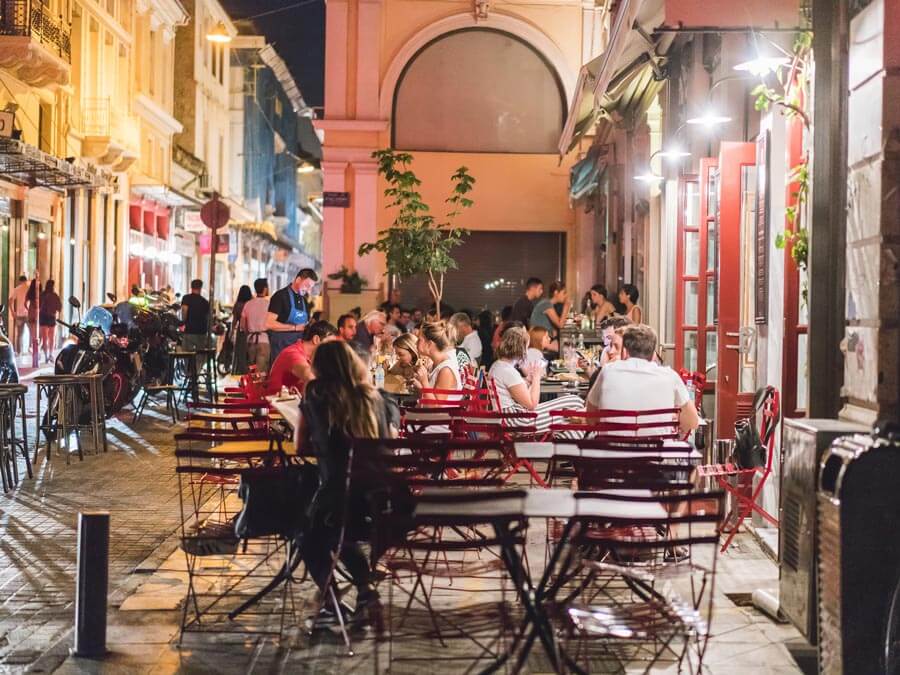 As we mentioned many times before, Greeks eat late. If you go to a restaurant before 9 pm, it will most likely be empty. Most Greeks eat dinner around 9 to 11 pm. If they have had a substantial lunch, then they will eat something lighter. This is the time (and meal) that Greeks prefer to go out and enjoy it with friends.
Enjoy your dinner while traveling within the world of Greek gastronomy at "Agora", at 31 Christou Vournazou, in Ampelokipoi Metro Station. "Magemenos Aulos", at 4 Amynta in Pagkrati is an excellent choice if you want a local taste of years of serving authentic Greek cuisine. "Cosa Nostra", at 5 Agias Theklas Street in Monastiraki, maybe an Italian restaurant but it is among the best in the city center (who said that Italians are the only ones who love pasta?). Try its pasta while feeling like being a character in the Godfather movies! Finally, head to "Funky Gourmet", the temple of molecular cuisine which is located in the center of Athens to enjoy not just a meal, but a life experience!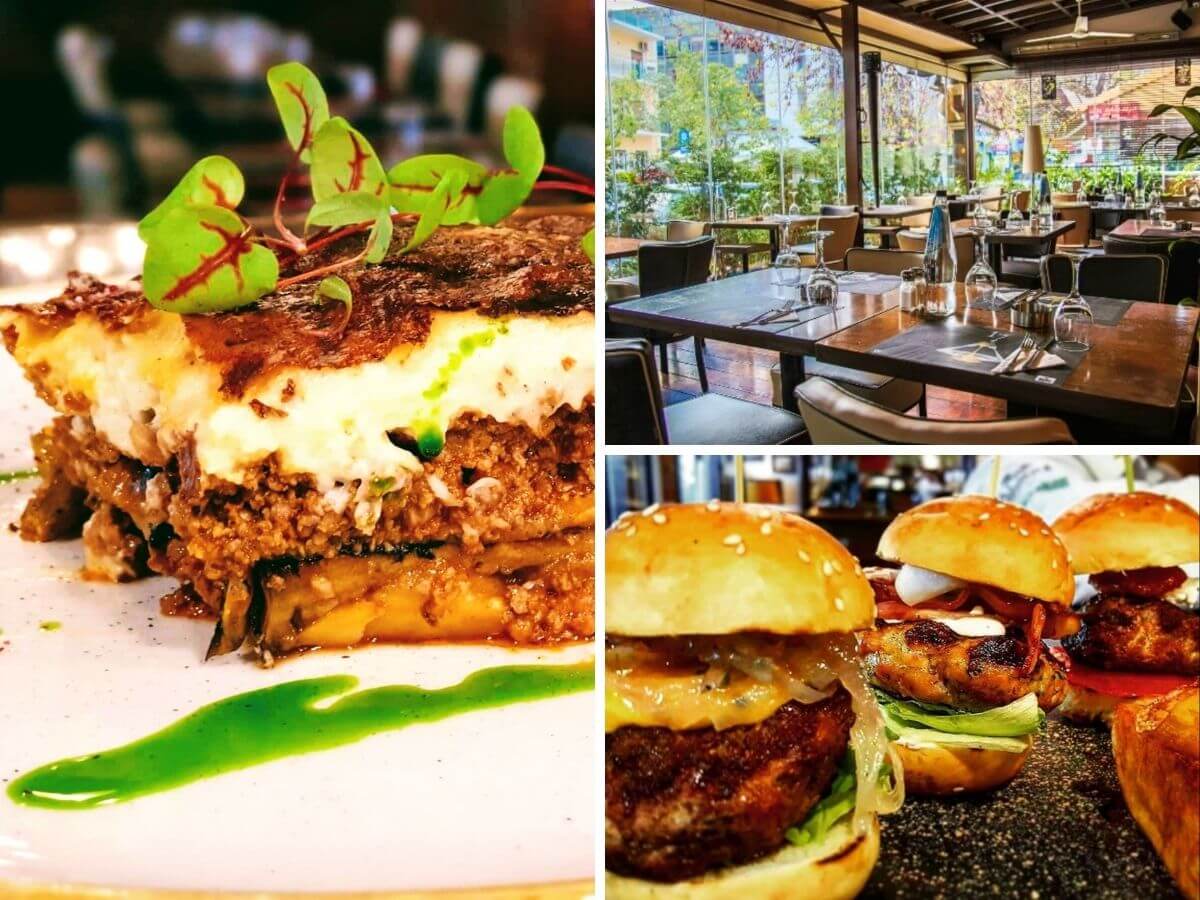 For those who wish to try traditional Greek cuisine
What do we mean by traditional Greek cuisine? Let's take a step back and learn about this wonderful field of Greek gastronomy. Firstly, meat in traditional Greek cuisine was primarily intended for Sunday lunch and festive events. Greeks were eating mostly fish, vegetables and beans. The typical Greek table is rarely based on the classic three-course succession of Western culture. Instead, it is packed with a variety of dishes, which the co-diners call "meze" and taking bites while having conversations during the meals. It is about the tradition of "meze", where wine and other spirits play an important role.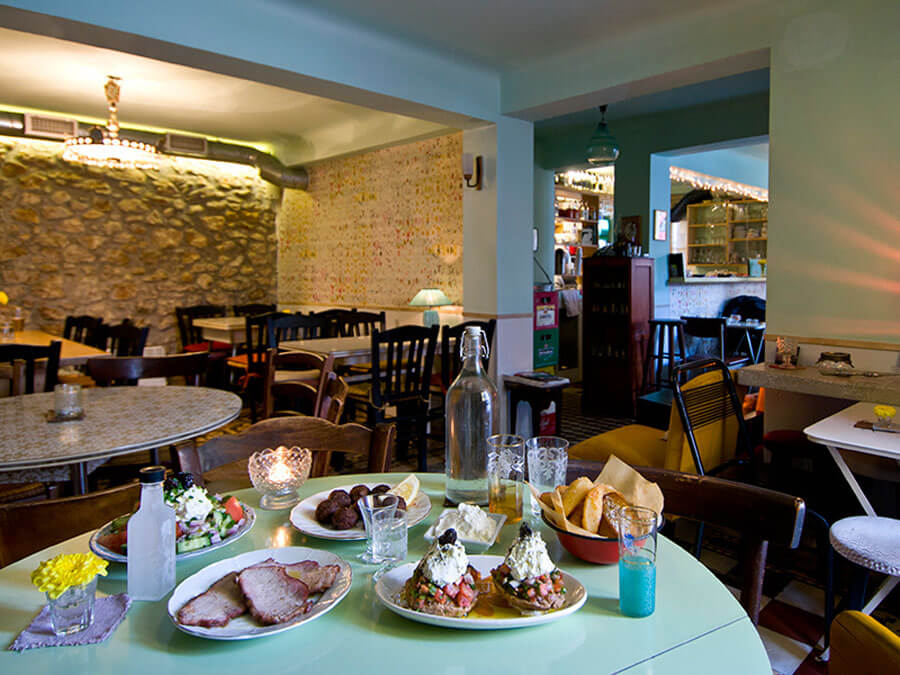 To experience this tradition, we have gathered our favorite local eateries in Athens! At 48 Τroon Street, in the old neighborhood of Ano Petralona, you will find "Aster". Beautiful old mosaic and tiles on the floor, different tables, rooms with old cabinets in front of an open kitchen, "bare" stone walls -it is impressive. The special atmosphere is complemented by the old tableware with great raw material and delicious Cretan cuisine! "Ella Greek Cooking" is at 26 Mitropoleos Street. In this special place near Syntagma area, you will be introduced to the two main attributes that define Greece: hospitality and excellent food! The flavors are inspired by the recipes of traditional cuisine and the atmosphere is cozy like a Greek Sunday family table!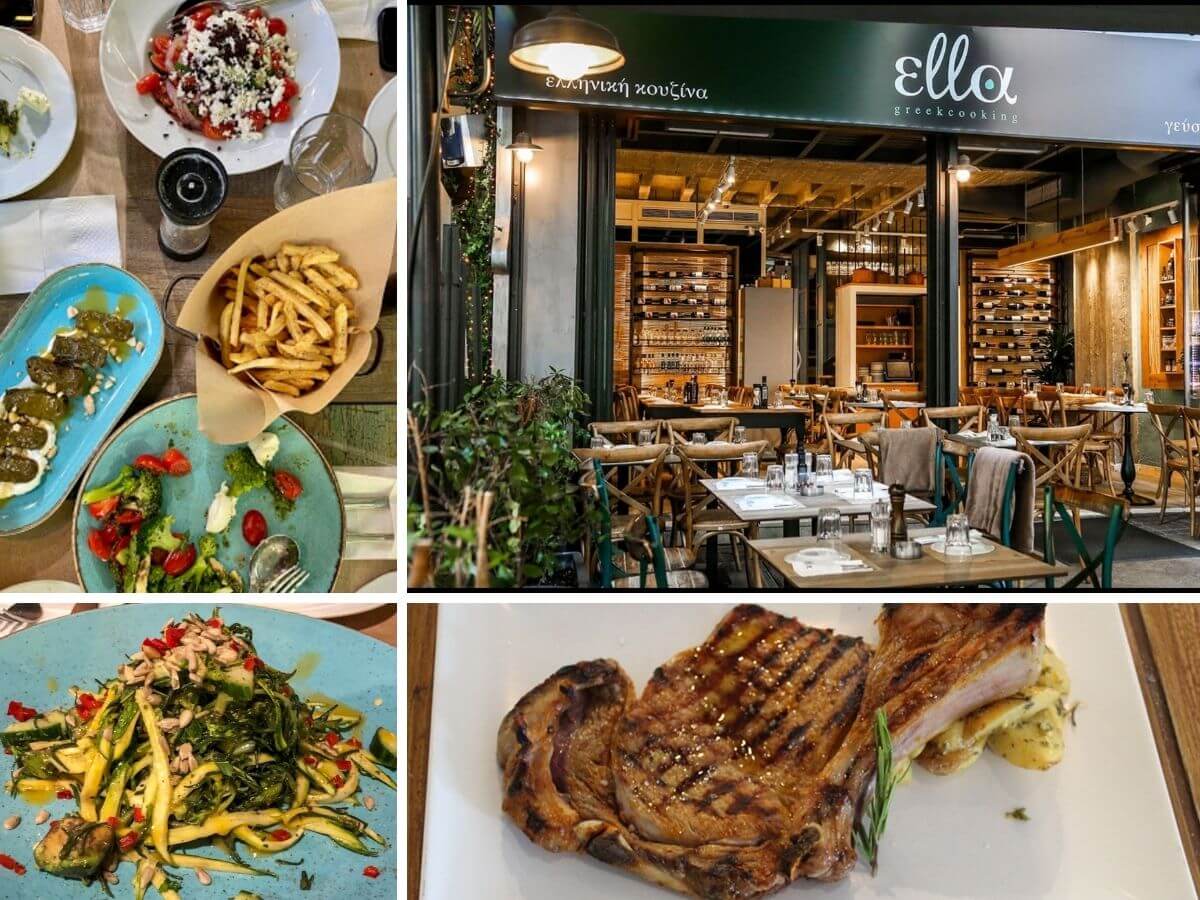 "Aris" in Varvakio market arcade, on the side of the former Stock Exchange, owns a little place which operates with his family for fifteen years. There are about ten tables and he serves simple things that are provided from the market. Finally, in an old primary school at Kallidromiou street, there is a beautiful tavern with a nostalgic atmosphere and great food. "Ama lachei" serves you delicious appetizers, excellent cheese from various parts of Greece but also brilliant grilled meats. Take your pick!
Family-friendly restaurants in Athens
Families with young kids have extra needs when to come to dining. Athens is a busy place but there are nearby districts within the limits of the city center that you can enjoy great food and playday! "Koralli" is a nice tavern in Kallithea, at 19 Kolokotroni Street. It features Greek cuisine and unique delicacies. Dishes are not limited to seafood and fish as they are offered in a wide variety of cold and hot appetizers. It has a specially designed playground so that the children can play while the parents enjoy tasty snacks!
Hard Rock Cafe Athens at 52 Adrianou Street in Monastiraki offers a convenient option. It is located very centrally and is ideal for a quick stop with the kids. In addition to the special flavors that you and your children will enjoy, the kids will be able to participate in children's activities and enjoy authentic Rock 'n' Roll music! Not very authentic and Greek, but it is right in the heart of the city center. A little further out, at the beautiful Athens Riviera, there is a restaurant in Glyfada that offers delicious dishes based on Italian cuisine plus very special activities for children. At "Bella Vespa", you can enjoy your meal while your kids are having fun in a completely safe area next to you.
Hint! You can book a family-friendly food tour in Athens.
Athens street food guide
Who does not long for a delicious treat while enjoying their walk? Athenians love to grab a quick bite as they enjoy the outdoors or as they had to their destination. Enjoying a walking tour in Athens and trying the street food on the way is an excellent idea! A great place to start is "Elvis". Every shop has its legend, but in cases like Elvis', the legend is true. Located in 29 Plataion Street in Metaxourgeio area, the urban and hip part of the city, Elvis is offering you handmade souvlaki, crunchy French fries, soft pita and authentic tzatziki… what's not to fall in love with?
If you find yourselves near Monastiraki (and surely you will) then visit the 'hidden' Agias Eirinis Square where you will find "Kostas". It may be one of the smallest shops you have seen, but you will surely never forget the taste of Kostas' souvlaki, in one of the most picturesque and quiet squares in the city center. If you are exploring the Exarcheia district, then head to "Leivadia", located next to Kanigos Square. A common secret of downtown residents, this food spot specializes in pork skewer, aka souvlaki – and after decades of operating it has managed to keep it juicy and tasty and 100% handmade!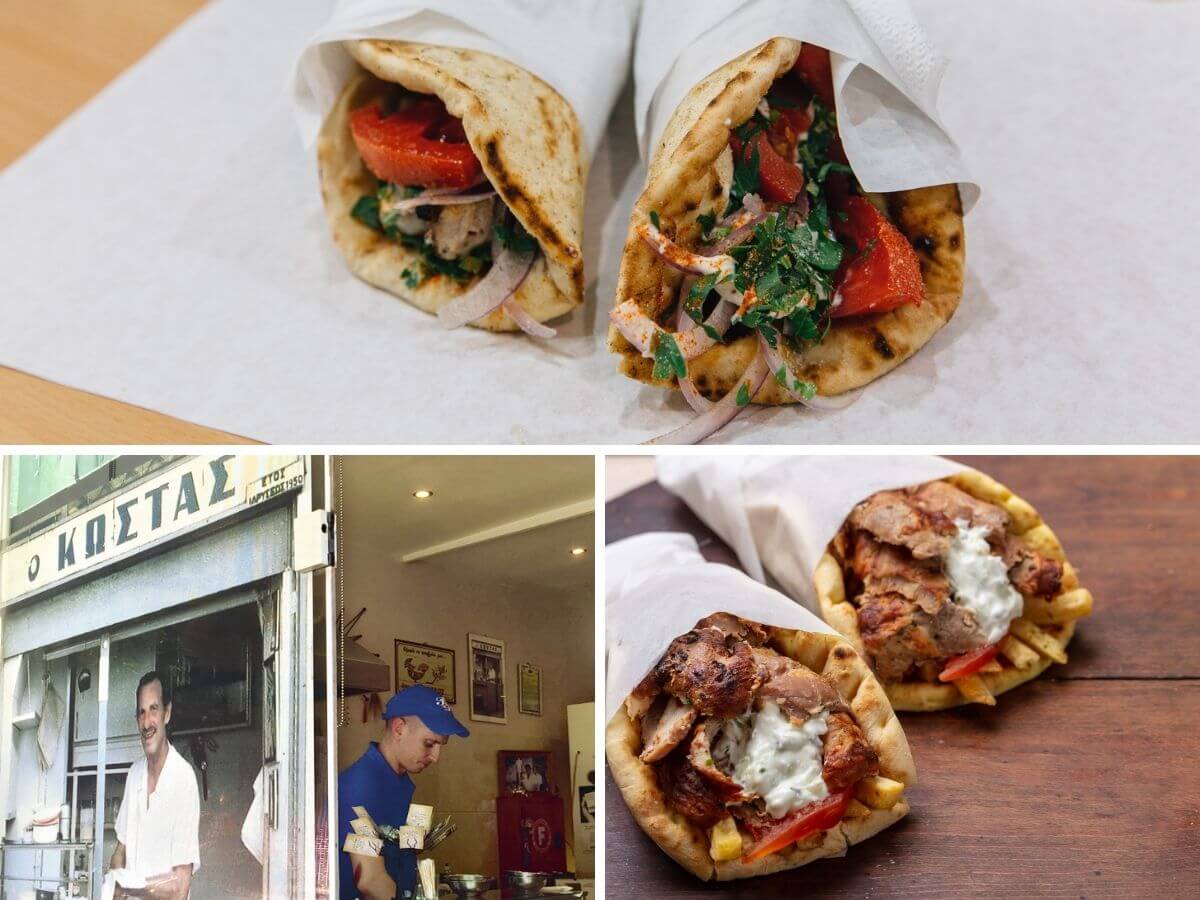 For vegans (and vegetarians)
Greece is a paradise for every vegan since the raw materials of the land of Greece are fruits, vegetables, legumes and all the products that the earth can provide. The Mediterranean diet, which is proven to be the most balanced in the world, naturally contains a large amount of these materials. Therefore, for all the vegies visiting Athens, you will find plenty of choices to satisfy your culinary curiosity!
At 38 Athanasiou Diakou Street, just across Saint Foteinis Church, "Veganaki" (v) offers you fair trade coffee with lots of vegetable milk options and tasty vegan food for all hours of the day - breakfast, lunch and dinner! At 76 Emm. Benaki Street, you can either begin or end your day with "Mystic Vegan" (v)! In the menu, you can come across Greek and Mediterranean flavors and of course the famous mystic pizzas in a vegan version. The decoration fits into the vintage style of the 60s with matching tables of chairs in nostalgic pastel colors.
At 84 Akademia Street, "Mama Tierra" (v) is a small and cute vegan restaurant that does not stop from experimenting with its organic raw materials! It is located near Omonoia square from where you can follow Athenas Street and walk towards the Neoclassical Square of Kotzia. There, the first strike in German-occupied Europe started! "Vegan Beat" (v) is a cozy place at a hidden arcade at 7-15 Pandrosou Street near Mitropoleos Square. This restaurant is an ideal choice for this area where you can hardly find anything cheap and in good value with amazing vegan delicacies! "Avocado" (vv) at 30 Nikis Street, in Syntagma, is the first purely vegetarian restaurant that opened in Athens and it has easy-to-taste and rich flavors, oriental and Greek.
More choices for vegans: The Best Places to Enjoy Vegan Food in Athens
For the lovers of seafood
Greeks have always been a maritime people. With its thousands of scattered islands, deep clean seas, windless creeks and rich seabed, Greece is a true paradise for the lovers of seafood! In the Greek seas, there are hundreds of species and variations, and their names change from region to region. Oysters, mussels, scallops, pins, bellows, sea urchins, bubbles, glossy are the most popular. Great dishes that contain all the aromas of the sea that you can not only find in the islands but also in the heart of Athens.
For the ones that want to eat by the sea with elegance, you have to visit Marina Floisvou in Palaio Faliro, a southern suburb of Athens. There, the "Nauticos Omilos Floisvou" is your best choice. It is a favorite Sunday destination for Athenians, so if it is the weekend it may be busy. There, you will not only find eclectic sea dishes but also peaceful sea notes and a beautiful view. Walking by 68 Aeolou Street in Monastiraki area, you can smell the sea! Behind the central fish market and specifically where the Pappos Gallery on Aeolos is, a seafood restaurant and its delicious goodies, "Aeolou 68", awaits you to offer a breath of the Aegean.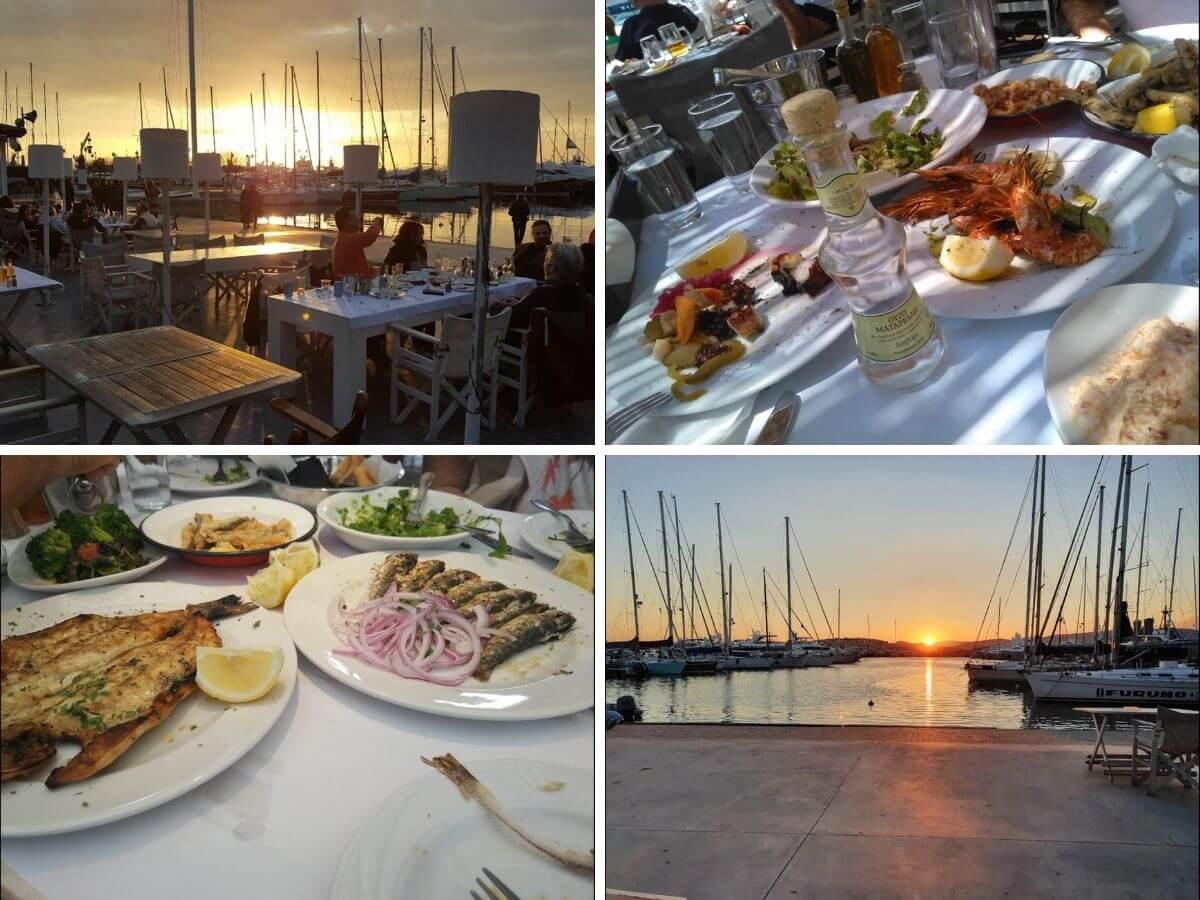 "Kapetan Michalis" at 3 Feidiou Street in the center of Athens is introducing the idea of the old navy tavern, like the one you would find at a harbor in the '50s. At least, that is the feeling we have when we enter its doors. On its simple space, it serves fresh fish and if you get lucky you will enjoy one of its spontaneous live music days!
The port of Piraeus is an area that you definitely have to explore if you are a seafood lover! Mikrolimano, Castela, Vrachakia… all those beautiful districts with their marinas and fish taverns…. One of them is "Yperokeanio" at 48 Xatzikiriakou Street. Small but miraculous, it spreads a few tables beside the road leading to the port, serving excellent seafood.
Michelin restaurants in Athens center
It is a clear example of the rise of the Athenian gastronomic scene that Guide Michelin systematically deals with the evaluation of the restaurants of the Greek capital. For some years now, Athens has been pinching stars on many restaurant's lapels, and here are the creme de la creme for the eclectic foodies. We have picked a few of the best (or at least our best) Michelin restaurants in Athens to choose from.
Varoulko Seaside, located in one of Piraeus's most beautiful locations, in the idyllic Marina of Mikrolimano, offers a special trip to seafood. With minimal aesthetics, a welcoming atmosphere and a unique view to travel the eye, the Michelin-starred restaurant welcomes its guests daily for lunch or dinner. Faithful to its history and philosophy, Varoulko Seaside proposes a menu dedicated entirely to bottom treasures.
Spondi, at Pyrronos 5, was created by Apostolos Trastelis in 1996 in Pagrati. Housed in a neoclassical building, Spondi has received a distinction in Greece as well as abroad for its exquisite French-inspired, creative cuisine. The head of the kitchen is Angelos Lantos who has for many years created unique dishes inspired by the seasonality of the ingredients. Spondi restaurant is also known for its extensive wine cellar, with more than 1300 labels, available and created with the help of a prominent sommelier.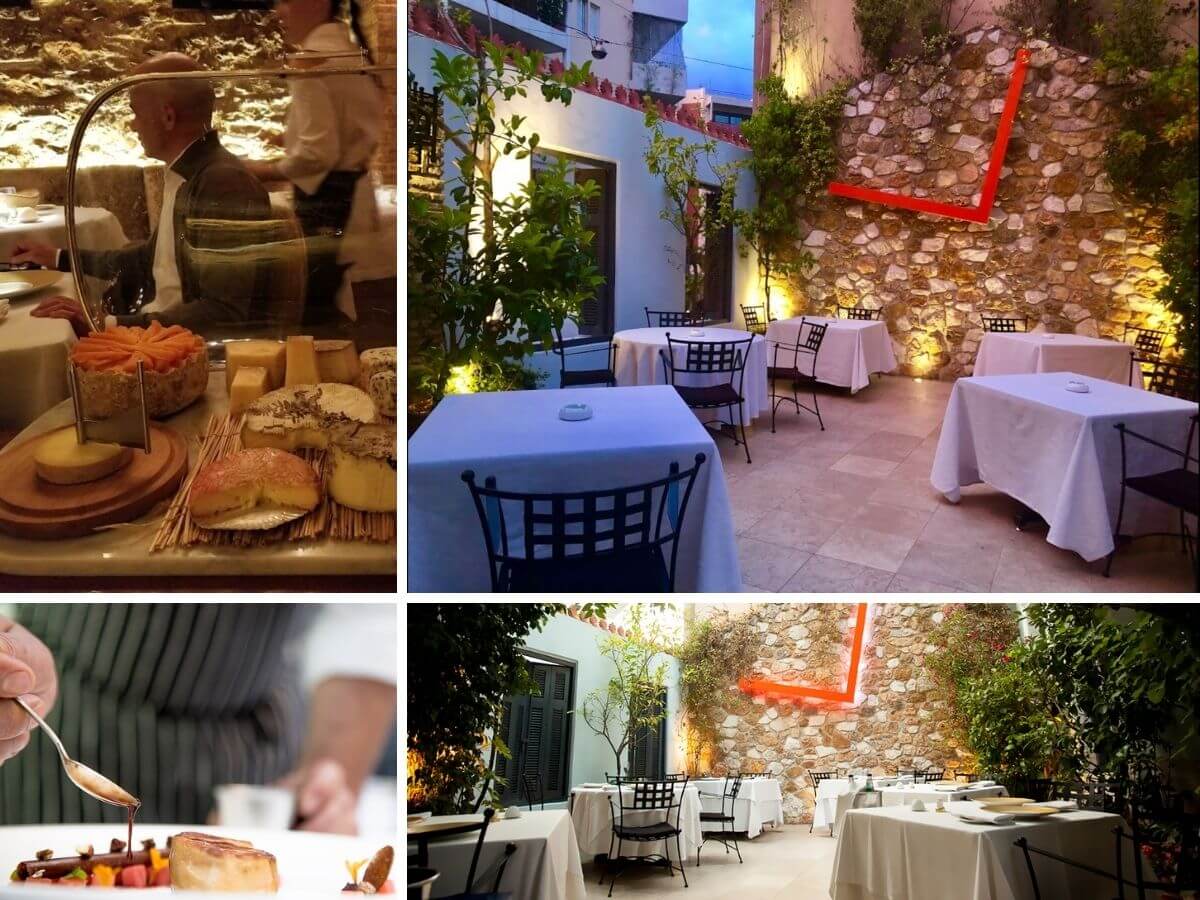 Another option is Hytra, a restaurant in Neos Kosmos, located on the 6th floor of the Arts and Culture Roof at 107 Andrea Syggrou Avenue. Creative Greek cuisine, exquisite materials, luxury air, elegant design curated by the award-winning Diversity Architectural Office and stunning views of the Acropolis make Hytra restaurant one of the best meeting spots for fine dining and cocktails.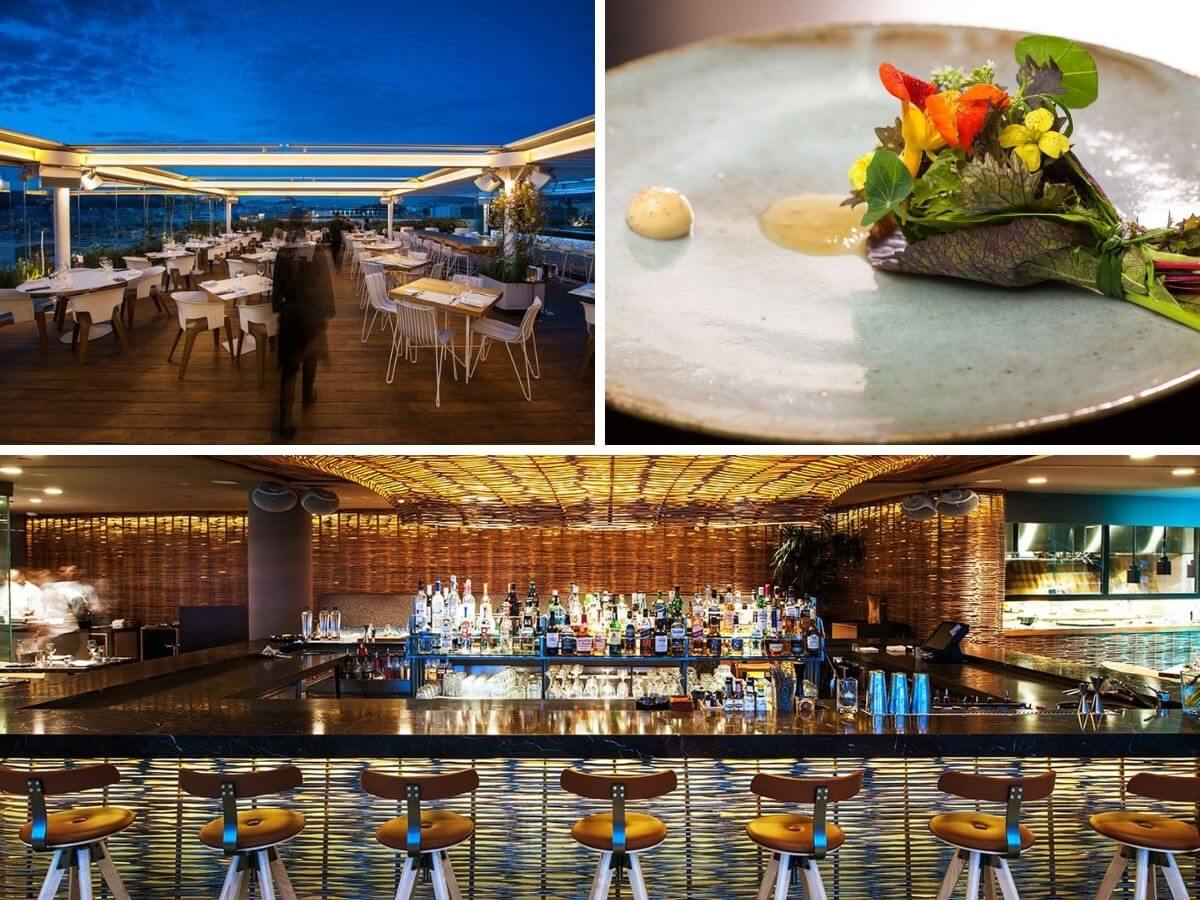 'Koutoukia' and the underground food culture
In spite of modern trends in restaurants demanding variety and constant alternation in the menu, some decades-long traditional taverns and koutoukia insist on the logic of 'less is more'. And their longevity confirms their special 'recipe'. Several decades ago, when there was no internet, finding a good place to eat was a matter of searching by foot or personal recommendation. Some taverns were hidden from plain sight, making it even more difficult to enjoy your meal there.
These taverns are still around and are still 'hidden' from the curious eyes. They are called 'koutoukia'. Diporto is an underground tavern located in the Varvakio Market, at the Socrates and Theater Square corner. The flavors are authentic and everything is fresh, bought directly from the market next to it. Another option is Atitamos, at 2 Kapodistriou Street in the neighborhood of Exarchia, - the off-the-beaten heart district of Athens - specializing in Greek traditional gastronomy.
One of the locals' favorite taverns in downtown Athens is Klimataria in the Theater Square, which approaches almost a century of life. The aesthetics of this food spot is popular, unpretentious, characterized by the foliage of the climbing plants that give the tone. Steki Pinoclis tavern, in Kerameikos area, is the new meeting point for Greek cuisine and appetizers. It is a music tavern at 102 Megalou Alexandrou street where you can listen to Greek music, traditional and rebetika. The food is delicious and the experience fulfilling!
Best desserts in Athens
If you have never had an overwhelming desire for sweet, if you have never fainted on the lack of cupcakes, profiteroles and carrot cakes, if you have never once wandered the streets to get your sugar intake, then this paragraph does not concern you. Everyone else: read on! Here you will find the most exquisite, delicious, to-die-for Greek sweets, from ravani and kantaifi to chestnut cake and halva!
Your first stop should be the small, family-run business, called "Ta Serbetia stou Psyrri". This dessert paradise is starting to become a haven for the lovers of sweets! It was the first sweet shop to open in Psyri neighborhood, at 3 Aischylou 3 street. It was also one of the first in Athens, offering something different from the pastry shops of the time. At Kolonaki area - specifically at 21 Sina Street - there is a shop reminiscent of a bistro-café, called Portatíph, aesthetically pleasing to the eye and with quite a romantic décor. If you're a fan of handmade and fresh pastries, then this is the place for you! Enjoy (kali apolausi, as we say in Greece)!
For the lovers of gourmet food
If you are one of those who like to try traditional flavors that are creatively transformed into imaginative dishes, then you should book a table in one of the following gourmet restaurants in Athens. Housed in a three-story neoclassical building on Herakleidon Street at number 2, in Thissio, Syn Athena is a multifaceted, multicolored space that stands out for its stunning views, excellent food and polite staff. Wonderful Mediterranean-style dishes made with love and fine raw materials await you to discover them with breathtaking views of the Parthenon, Pnyx and the Observatory!
Dinner in the Sky at Technopolis, in Gazi, is a different tasting proposal, in the center of Athens. A 22-person table, along with the talented chefs of the venture, will lift you up to 50 meters and provide you with an unforgettable experience, overlooking the city!
One of the locals' favorite streets in the heart of downtown, 31-33 Voulis, is famous for its ethnic restaurants. The 'fusion' restaurant Nolan stands out. Its food is honest and unpretentious: the definition of comfort food, but with aesthetically pleasing and polite service with high quality! Undoubtedly, Kolonaki area has associated its name with fine restaurants and eclectic entertainment in the city center. The bar-restaurant Zurbaran at 38 Patriarchou Ioakeim Street, introduces classic and beloved flavors with modern twists.
Low budget food in Athens
For the low budget traveler, Athens can become the ideal foodie destination! The Greek capital is the mecca of street food, with cheap options on every corner. You can find the famous Greek souvlaki and gyros in literally every corner of the city. However, in this paragraph, we will focus on low budget but quality food and places.
Kymatothraystis, at 49 Xarilaou Trikoupi, is a simple and cozy space, with tiny benches on the street and inside the store, with a self-service, buffet concept. From meat, fish and legumes to pies, noodles and salads, this family-run place specializes in unique gastronomic flavors. The specialty of the shop is the variety of tasting choices. The process is simple; once you choose the small or large dish of the store, you can fill it with as many goodies as you like. Get ready to mix flavors! It is also a great option for vegetarians.
Bouka, at 29 Solomou street in Exarcheia area, offers meals that only a Greek grandma can cook! It has been declared - and not unjustly - a top recommendation for hungry students but for lunch breaks. The authentic flavors will excite you and the size of the portions will satisfy your appetite. Another option is Epirus, at Varvakeios Market in Psirri area. It has become a small 'legend' in the neighborhood, a haven for the ones that stay out until dawn. An ideal restaurant for those who like pasta or soups. Here, at the market's backdrop, you should definitely taste one (or more) of its eight famous soups: Pops, cooks, veal leg, boiled goat, chicken soup, barley roe or fish soup.
Wine and dine
A complete Athens food guide could not leave out the wine lovers, of course! Greek wines are thriving and Athens is embracing this evolution. Expressors of this trend are the Athenian wine bars and restaurants. They began to multiply with the rise of Greek wine's popularity. There are warm wine-loving corners, cozy or industrial, stylish or homey, that introduce the visitors to the Greek - and foreign - wineries, with passion and knowledge, and of course accompanied by delicious food.
If you are looking for such a place near Syntagma square, head to By the Glass, a wine bar and bistro located at 3 Souri street. With a beautiful atmosphere and good service, you can travel to the lands of Greece through wine tasting! Another place for wine lovers in the center of Athens is Monk, at 4 Karori street in Monastiraki area. If you are visiting in the summertime, climb its stairs and enjoy original Greek and Mediterranean wines and cuisine on its magnificent terrace.
If you are looking for a more street-style experience, then Warehouse is your place. Located at 21 Valtetsiou street in the edgy neighborhood of Exarcheia, it offers a super-stylish industrial space with more than 70 labels of Greek and international wines and street food options. Kiki de Grece in the beautiful alley of Hepitou is a small bistro that serves many Greek delicacies of the local Mediterranean cuisine accompanied by (more than fifty) wine choices from a home vineyard. If you are lucky, you may stumble upon one of the regular tasting nights or themed evenings!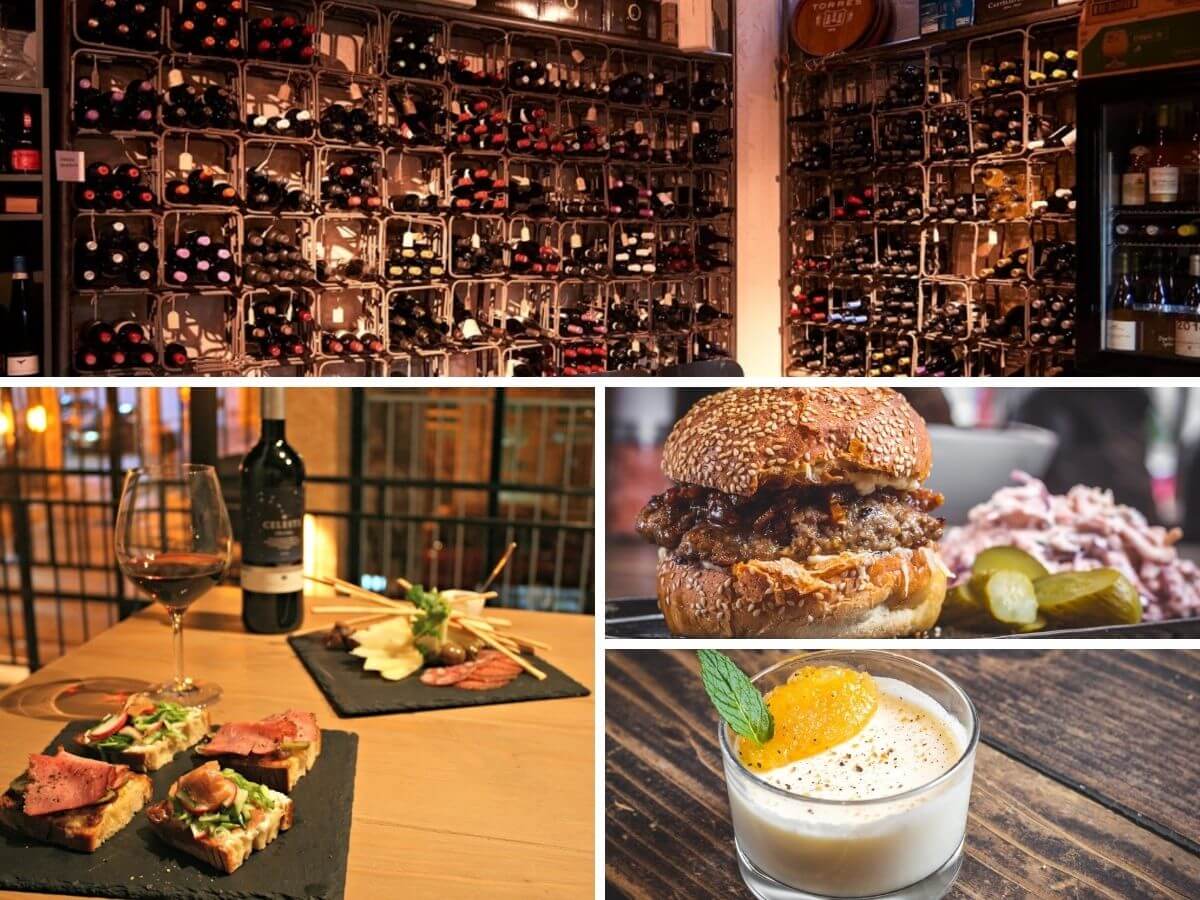 Best-kept secret food spots in Athens
The city's "secret" tavernas may be small, but they have incredible food at very good prices and a friendly atmosphere that will win you over when you pass their doorstep. The most likely is that you have passed just right through them while having a walk at the center several times, but only the locals know that they're there (and not many of them)! If you haven't discovered them, don't worry, that's why we are here for!
To Triantafyllo tis Nostimias, at 22 Lekkas street, is more than fifteen years old. This small tavern is located inside the Lekka gallery - it also has tables outside - and is known for its fresh fish and gourmet appetizers, which you can accompany with ouzo or tsipouro. Lekkas, in general, is a street with hidden joints, so if you visit this tavern for dinner you might want to look later for the secret entrance to the famous Speakeasy Athens!
At Gyzi area, there is a small hidden tavern that only a few locals know: Leylim Ley. Turkish, Kurdish, Arabic, and Greek cuisine harmoniously marry in this oriental tavern, with Agia Sophia posters on the walls creating a sentiment of eras of the past. To kafeneion o Mpampouras, at Dimofontos & Thorikion corner at Ano Petralona (near Thisseio), is a former feather craft industry, now a coffee shop/bar/bistro. In one of the most beautiful neighborhoods of Athens, this old space was turned into a small café-bistro with 3 architectural views, 648 tiles, 2 large tables and many stools that create a familiar feeling to everyone visiting. Order the apaki dish, the dakos salad and a bottle of rosé wine and you will never want to leave! Chez Lucien - Le Petit Bistrot is located in a building at 84 Peiraios Street within the premises of Bios, a multifunctional place. It is the only French bistro in Athens, a shop that is not expensive, almost accessible to everyone, and is unpretentious and authentic in every way.
Varvakios Agora - Athens Central Food Market
If you are not looking just where to eat in Athens but also where to shop local products this is the place! At the heart of Athens, you will find a cluster of small businesses with traditional Greek products and scents and flavors that will overwhelm you. It has been a tradition for Athenians to visit the Varvakios Agora (Athens' central municipal market) from every suburb or district of the city, to supply their homes with the best meats, sausages, fish, spices and herbs available. Did you know that the market operates in a wonderful neoclassical building for over 130 years?
The Varvakios Agora is the meeting place of the Athenians especially on the festive days of the year. The central market of Athens evokes images, colors and smells from old Athens and time-travels you to the past in just one visit. Today, one can find whatever they wish for their table: meat of all kinds, fish, fruits and vegetables, spices and nuts from every corner of Greece in every possible variety and price. 85% of customers are regular! They have become acquainted, they know which food benches to look for, when each seller will bring out their most exquisite product, etc. In the vicinity of the market, you will find traditional bistros that can prepare you a meal from the traditional products you can find in the market!
Athens food tours
Food tours are becoming a big thing in Athens. And why not? The best way to explore a city and its culture is definitely through its gastronomy, accompanied by a local! With experts on the field and locals above all, Athens comes to life in the form of vibrant colors, authentic flavors and distinctive scents. The city shines and you get the perfect opportunity to discover Athens' secret corners and hidden alleys, full of regional shops and local spaces. Imagine a stroll rather than a tour, exploring the city's neighborhoods and hidden paths as well as merchant streets, while forming true bonds with the locals. A food tour is a unique opportunity for a visitor to engage in a journey past the ancient sites and to feel the vibes of a hidden square that only the locals know; to awaken the senses through traditional Greek scents and flavors. The tour experience itself is particularly enjoyable. You can find exceptional and friendly guides who know the city in and out and our true foodies. You should definitely try it, it will be a culinary adventure to remember!
Hint! This is our favorite Athens food tour.
Foodie day trips from Athens
There are many cases where food can become the reason for an excursion. Especially in the following cases, where the distance is so close to Athens, you do not even have to think it twice! Athens serves as an ideal destination since it lies in the near vicinity of many beautiful places that hide several culinary surprises.
Τhe day has come for you to meet the "Greek Tuscany". Just 1.5 hours from Athens, unexplored by many, rich in history, dressed in myths and intoxicated by the enchanting fumes of must and wine, Nemea offers an unforgettable day trip. Throughout the year you have the opportunity to have a taste of mythology as well as explore the famous vineyards of the area that will lead you to the famous wine routes. You will have the chance to accompany the exquisite local wines with great local cuisine.
Another option is Aegina Island, just 1.5 hours away from Athens. The island is famous for its pistachios (unique variety in the world). Walking down its beautiful marina, you will find numerous stands selling their local products and you can try some and learn of their history! The most picturesque area of Aegina is Perdika, the famous "balcony" of Aegina. It is a fishing village in which you will find good food. You can choose to rest in any other place in Aegina and surely you will find good coffee with homemade sweets! Alkioni especially is famous for its homemade dishes made with love by the owners and you can enjoy them right by the fireplace if winter, by the sea if summer!
Closer to the city of Athens, Cape Sounion is ideal for a half-day trip or a full-day trip! The ancient Temple of Poseidon dominates over the cliff, overlooking the deep blue of the Aegean Sea. This is one of the most famous spots for watching the sunset and you can combine it with a delicious meal! There are many fish taverns in the Cape, serving fresh fish.
What and where to drink in Athens
Athens is a city that never sleeps! It is not an exaggeration to say that you will see more people on the streets of Athens after dark than during the day… Greeks love going out till early in the morning. They like to dance, drink and flirt. They usually change their venue after a while. Athens is ideal for a bar stroll. Even if you have to move between districts, the city is beautiful to walk by night.
A favorite option is Klepsidra, at 9 Thrasivoulou street in Plaka area, where you can enjoy a glass of Greek ouzo one a beautiful paves alley! If you are looking for the perfect cocktail to end your day, head to 42 Bastronomy, inside the arcade at 3 Kolokotroni street. Kolokotroni street is the heart of Athenian nightlife! The Gin Joint, at 1 Christou Lada street in Karytsi Square, offers you delicious cocktails while listening to jazz and swing sounds.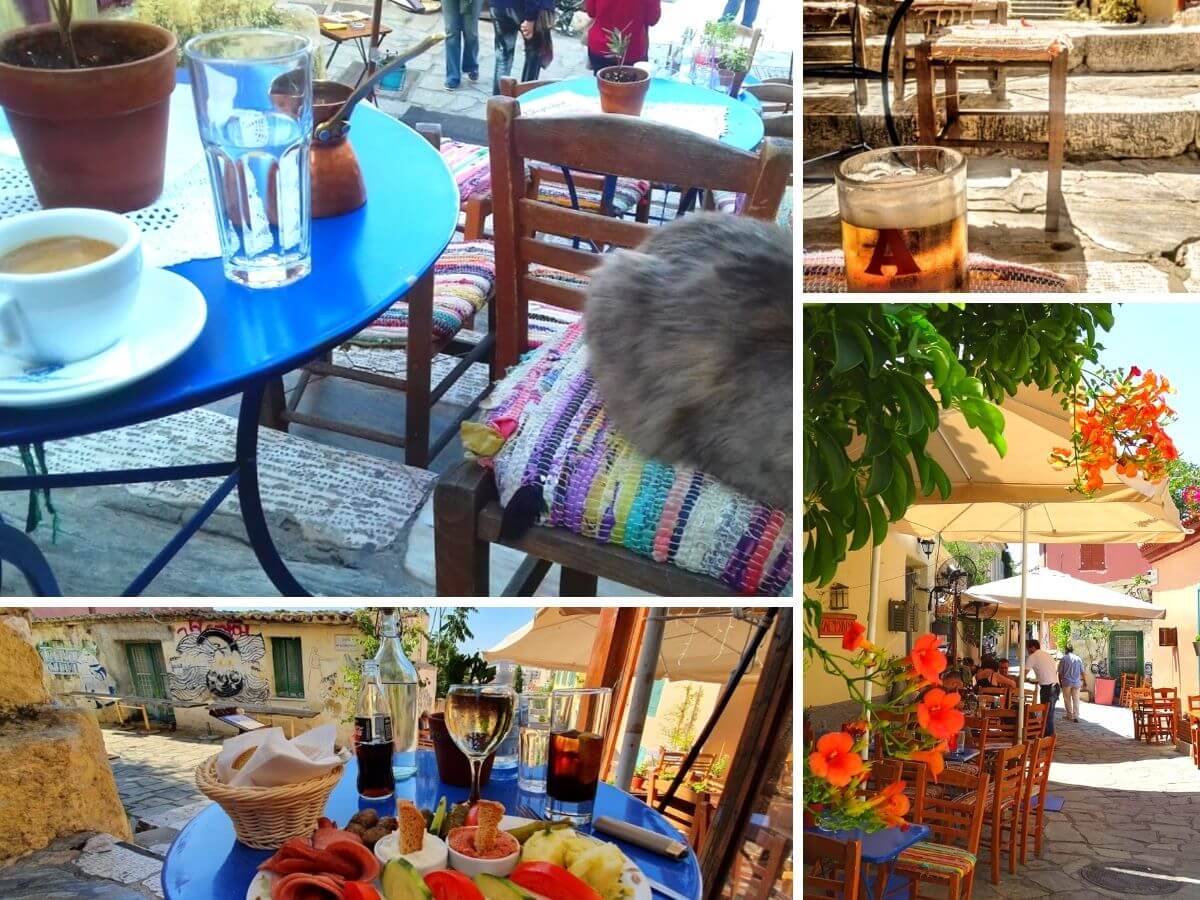 If you are a fan of beer and looking for a beer tasting, head to Red Lion Pub at 16 Niriidon Street. This pub is as authentic as it gets! For the lovers of Jazz, the first place that comes to mind is Jazz In Jazz, at 4 Dinokratous street in Kolonaki area.
Seven Jokers at 7 Voulis street in Syntagma are is one of the most popular pubs in the center and a favorite of the overnighters, as it stays open until the early hours! To Podilato is a place that most of the locals know very well, located in a semi-basement at Themistokleous street, in Exarcheia neighborhood. There, you will listen to incredible music - jazz, blues, and more alternative DJ's - and besides classic drinks, they also serve traditional racomelo! In Exarcheia area you can explore the numerous underground pubs and bars. You can also head to Pagrati area, the hip neighborhood of Athens.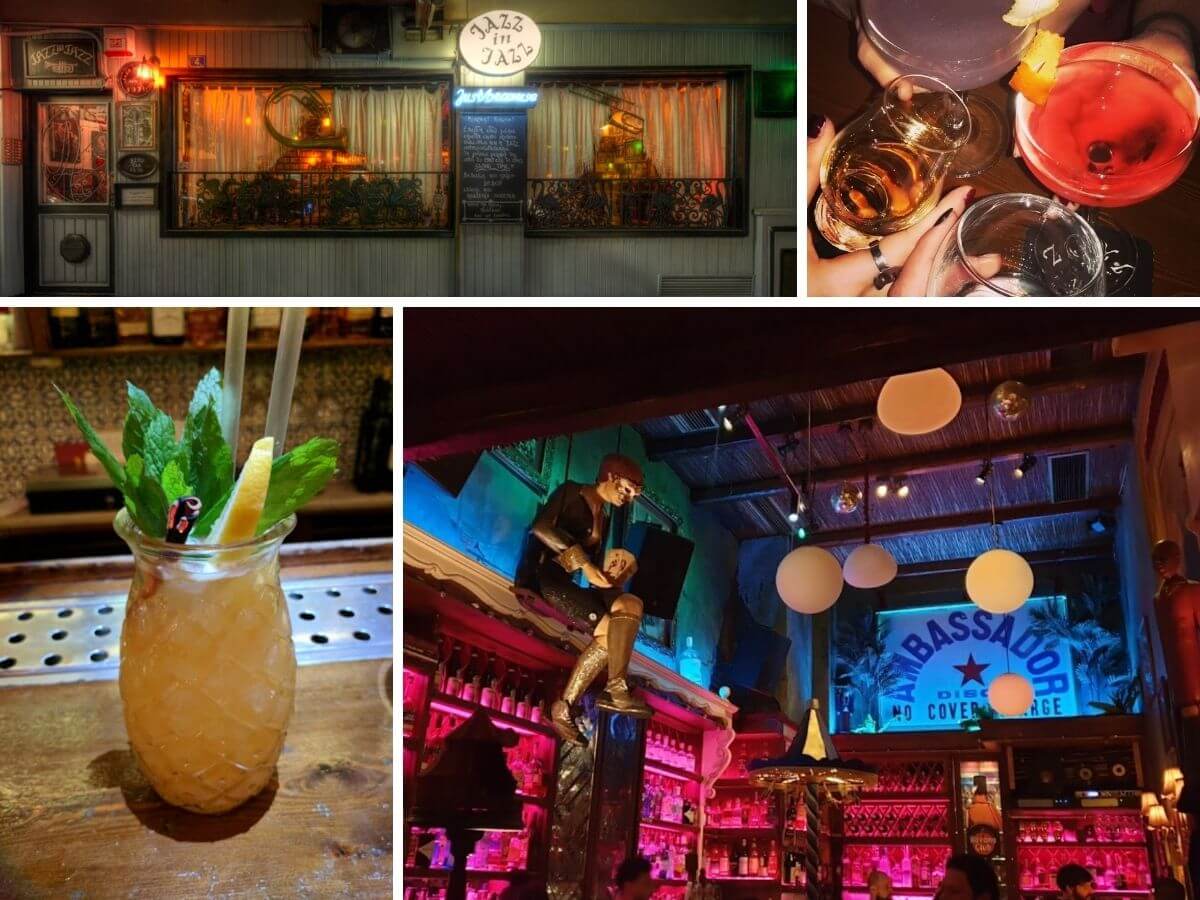 Ηip coffee spots
Greeks love their coffee! They can drink coffee instead of having breakfast and they keep drinking new cups during the. Start with a cup of Greek coffee at Athinas street right next to Varvakio Market, at Mokka coffee house. Watch the specialist brew the Greek coffee the old way (in the hot sand) and enjoy its rich tradition with a sip. Moving on, we have a suggestion for you: what if you had a city break?
The locals from Exarchia area love Mr. Bean Coffee Roasters. This local café is honoring the art of coffee and travels you through your cup to Colombia, Guatemala, Brazil and all around the world! Try their espresso Freddo - it tastes like heaven! At Omirou street in Kolonaki area, Petite Fleur will take you on a magical trip to Paris with its warm colors, piano and classic furniture and vinyl collection! In Hypereidou street in Plaka, you will find Kimolia, a place that evokes memories from another era, with nice funk-o-jazz music in the morning and a bit more rock'n'roll in the evening. Warm space, nice people, good quality materials - what's more there to want for enjoying a cup of coffee in Athens?
If you were wondering which are the best places to eat in Athens, then hopefully this food guide has given you many answers (and tasteful adventures). Feel free to contact us for any more tips or meet us on a tour at the corners of Athens!
See also: