1. Rainy day in Athens? Visit a museum!
Bad weather in Athens? Spend your day in the museums! Visit the Acropolis museum that is constructed to mirror the Sacred Rock of Acropolis and explore invaluable treasures from Greek antiquity. Make sure to visit the newly-opened ancient neighborhood before you leave, located below the Museum! Afterwards, head to the National Archaeological Museum that is one of the most important in Europe, because of its unique collection of ancient artifacts! If two Museums are not enough for you, then the new Museum of Contemporary Art has it all. From Degas to Polock, the size of the collection will amaze you! It is situated in a beautiful neoclassical building with beautiful foyer to relax after your tour.
Check this out:
2. Become a potter
Transform a rainy day in Athens into a creative day and have fun while creating the means that will bring you back beautiful memories in future rains to come… Join a pottery workshop, unearth your talent in ancient art and create your very own masterpiece that you can take back home as a souvenir!
Hint! Contact us to personalize this wonderful experience for you.
3. Become a sculptor
Ancient Greeks took sculpting to another level. Praxiteles, Phidias and Polykleitos are just a few names of the many Greeks that entered the Pantheon of the greatest sculptors of all time. Join a local artist at his workshop and take part in a Sculpture Workshop experience. Learn how to use selected sculpting tools, watch videos on ancient sculpting techniques, then model and carve an art object from Cretan clay under your tutor's careful guidance. You can even keep your masterpiece as a souvenir. Contact us for more details.
4. Drink a book
The romantic image of a film protagonist sitting in a cozy café and enjoying his book while it is rainy outside will forever be engraved in our minds. Why not try it yourself? Embrace the idea of getting your favorite book and enjoying it, accompanied by a mug of steaming coffee in book cafés such as the Little Tree in the Acropolis area. Greeks love drinking their coffee very slowly and enjoying it over a long conversation with friends in cafés. Don't let the rainy weather ruin your time in Athens. Instead, see the rain as an opportunity to live like a true Athenian for a few hours!
5. All that jazz
If it's a rainy night in Athens and you think your evening is ruined, think again! There is the perfect place to take away your blues and that is the all-time classic bar Jazz in Jazz in the Kolonaki area. Nice atmosphere, good music and bourbon! The bad weather outside seems irrelevant… Listen to beloved artists like Luis Armstrong or Mahalia Jackson and let the wooden interior, the musical instruments and the 30's decoration to time-travel you to a magical era!
6. Live an ancient experience
Since the rainy weather is not very suitable for walking tours, you can choose an alternative: become a sculptor and create the next Aphrodite of Knidos! Enter the realm of King Minos of Crete and attend an Ancient Greek Symposium in his palace! Drink Ancient Greek wine, taste Cretan snacks, listen to the latest rumors of Athens and philosophize like Plato!
7. Learn how to dance like a Greek
Join an indoor Greek dancing lesson in the heart of Athens. Learn some of the most iconic Greek dances (like the famous Sirtaki or Kalamatianos) while having fun and creating unique memories to last a lifetime! After this dancing experience, you will be ready to rock it in any Greek tavern and bring the fun back to your home and your friends.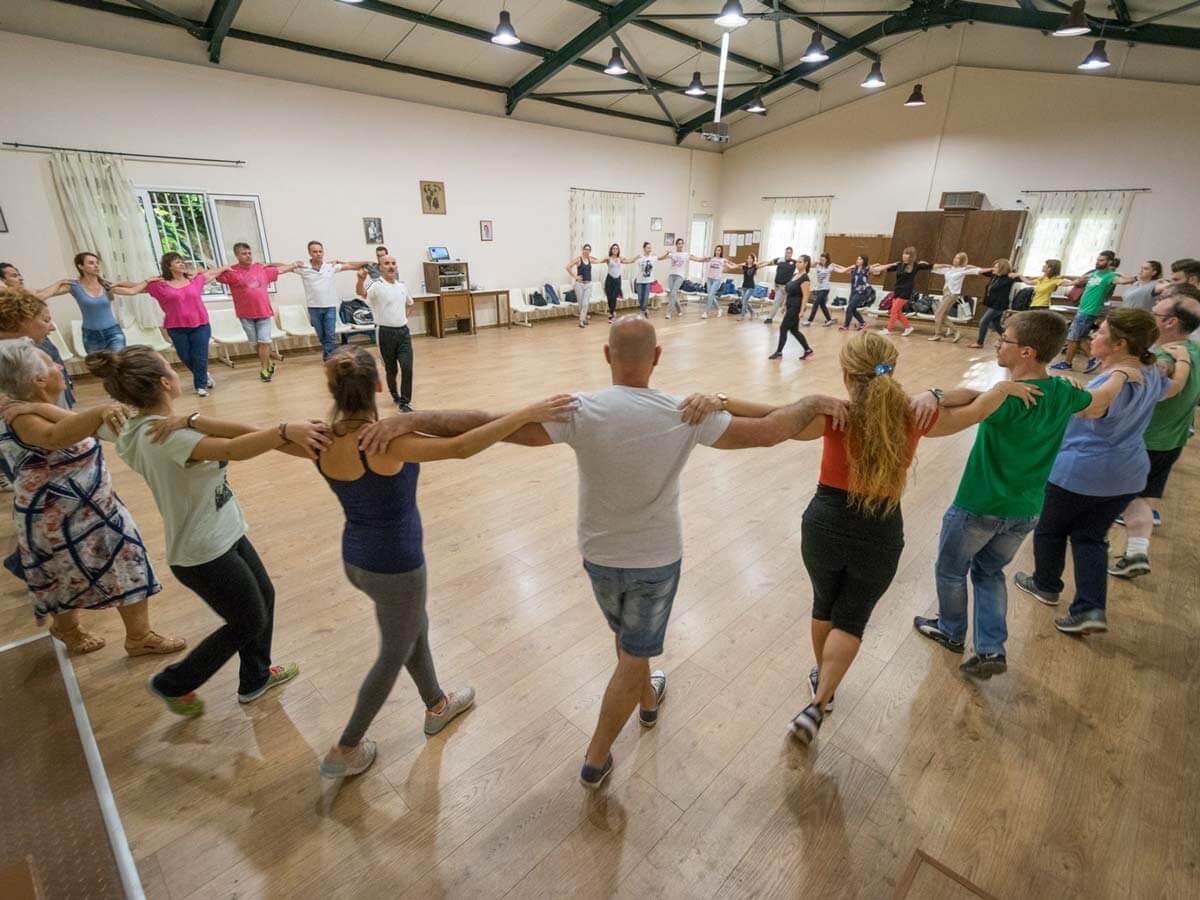 8. Treat yourself to a night at the Opera
Visit the architectural marvel of Stavros Niarchos Foundation Cultural Centre (SNFFC) to watch a play, a concert, or an opera and spend a wonderful evening in Athens. Feel the magic of the theater and be the leading actor of your own fairytale! While you are at the SNFFC, find the chance to visit the building of the new National Library and let us know what you think of its modern and frugal design.
9. Chase the sun outside Athens
If it is raining in Athens, there is always the option to chase the sun away from it! A rainy day in Athens might well be an excellent opportunity for a day trip. Check the weather forecast and visit one of the many historical and beautiful nearby destinations. From Delphi to Nafplio and from Olympia to Nemea, all you have to do is feel adventurous! Contact us for amazing trip ideas from Athens.
10. Rain outside, cooking and songs inside
There is no better excuse to delve deeper into Greek gastronomy than the rainy weather! Take the metro to Monastiraki Square, head to the Psiri neighborhood next to it and enter one of the many taverns there. Take your pick from a long list of traditional Greek dishes, relax in the warm astrosphere while listening to live Greek music and "kali oreksi" as we Greeks say!
Tip! To make it an even more immersive experience, you can join a Cooking Class in the heart of Athens. You will meet with your local cook, shop at the local market and cook a delicious, traditional Greek meal that you can then enjoy! For more details, please contact us.
11. Diamonds are forever
If you love shopping, then there is no need for you to worry about rain in Athens. Visit the biggest shopping mall of Greece in the center of Athens, which leads to the City Link arcade with many cafes and theaters surrounding it. Situated in an old neoclassical and historical building, it has hundreds of brands and many floors to wander around until the rain stops. If you do not feel brave enough to watch Ibsen in Greek in the theater next to the mall, you can head to Zonar's, the oldest café in Athens, and try its homemade hot chocolate; priceless!
12. Hide away in an arcade
Do as the locals would: go to a favorite arcade and spend your morning, afternoon or evening there! The arcades of Athens are considered as one of the most precious hidden gems of the city. Athens has countless arcades in its city center, most of them hidden from common view. Korai Arcade, for example, offers you more than you can imagine. Start by visiting the memorial site 1941-1944 and see the inscriptions of the prisoners on the walls; continue with the arcade's art gallery and then grab a proper sandwich to satisfy your appetite; enjoy a hot chocolate in one of the cozy cafés and then watch a movie at the oldest cinema of Athens, located (where else) inside the arcade!
Bonus idea: Dancing in the rain
What if you embraced your bad luck and saw the rain as the ultimate challenge: walking in the city while raining! Like Don from the historical movie, take your umbrella and enjoy the moment! How many times will you discover Athens' life during rain? Embrace the fact that you are going to get wet and experience the.. wet side of the city. See Athens from a different perspective, watch the locals running towards shelter or walking in the rain contemplating. Just make sure your hotel is nearby to change your wet clothes afterward!
You may also like:
About the author: Our team at Greek TravelTellers consists of academics and lovers of Greek culture. Our vision is to convey our knowledge and Greek values through unique tours and experiences. Through our blog, we hope to bring Greek history and culture closer to you. Feel free to learn more about us.