Day One
8 a.m. - Start by checking Acropolis and Parthenon off your bucket list
One of the main reasons you came to Athens is to visit the great Acropolis. And you should do that! But because Athens has way more to offer than its holy Rock, you should start with it and check it off your list. Wake up early in the morning and enter its gates first thing in the morning, so you can avoid the mass crowds and enjoy your tour of the Acropolis and the spectacular views. You can also combine it with a visit at the new Acropolis Museum, which is among the top 10 museums in the world.
12 p.m. - Enjoy an ice cream as you explore Plaka
After the Acropolis Museum, walk down the Dionysiou Areopagitou Street and enter Plaka, the oldest neighborhood of Athens and one of the most beautiful. Locals love to buy an ice cream from DaVinci Gelato, one of the best fresh ice cream spots in the city, as they take a walk in the little alleys of Plaka.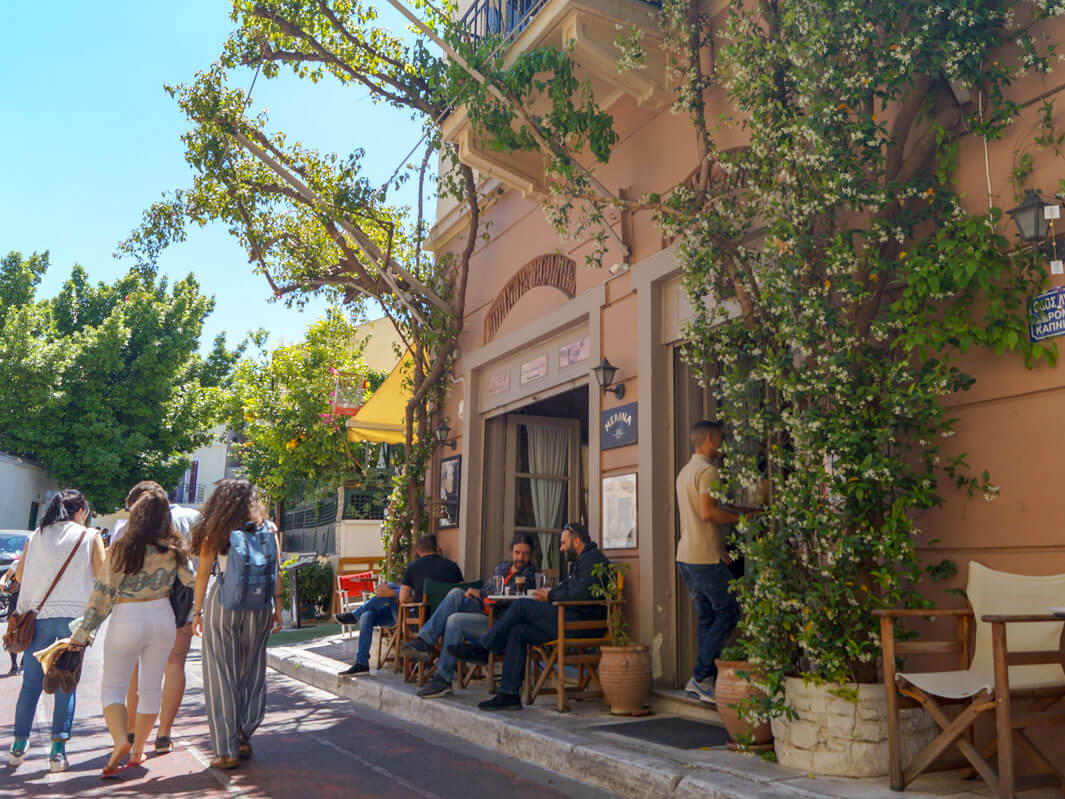 1 p.m. - Have lunch in an authentic place in Plaka
Greeks love eating! And they take their time while doing it… Since you are in Plaka, head to Klepsidra, a local "ouzeri" that locals go to enjoy a glass of ouzo and mezedes (delicious small dishes). Relax and breath in the local vibes under the shadow of the Parthenon.
Tip: Try their dolmadakia gialantzi (stuffed grape leaves) and saganaki (local grilled cheese)!
3 p.m. - Find your way to the "secret neighborhood" of Anafiotika
Just above Plaka, there is another beautiful neighborhood for you to explore. However, getting there might be tricky. As you walk up from Klepsidra towards the walls of Acropolis, you can easily get lost in the countless little alleys and stairways. But once you manage to find your way to Anafiotika, the white little houses that remind us of the Cycladic islands and the breathtaking panoramic views of Athens will reward you!
Tip: Follow the stairs up and and to left from Klepsidra and look for the little alley with the graffiti.
5 p.m. - Wander around the National Gardens like a Queen or a King
After leaving Anafiotika, walk to the National Gardens of Athens, literally an oasis in the center of the city. One of the favorite activities for local Athenians is to resort to the vast green space of the Gardens for a refreshing walk or even a pic nic! They used to be the Royal Gardens of the 1st queen of Greece, Queen Amalia. Follow the path of the Nymphs that where transformed into beautiful trees, explore the vast Mediterranean flora, discover ancient columns and friezes, and if you are lucky you may hear Pan playing his flute under a pine tree!
Tip: Inside the National Gardens, at the northeast side, there is a cute little café where you can enjoy a Greek coffee or a refreshment.
7 p.m. - Watch the famous change of the presidential guard
Walk down to Syntagma Square and take your position in front of the Greek Parliament and Eyzones (the presidential guard). Dressed in traditional costumes from the Greek War of Independence, they offer a spectacular spectacle with their unique way of walking and changing guard.
Tip: The change of guard takes place every hour. Make sure to arrive there 10 minutes earlier.
8 p.m. - Try Greeks' favorite delicacy, lukumas!
From Syntagma Square, follow the Ermou street which is the most famous shopping street in Athens and possibly the busiest one. When you reach Kapnikarea church, pause for a while and reflect. The church of Panagia Kanpikarea is one of the oldest churches in Athens, dating back to 11th century and it was built over an ancient Greek temple. It is a favorite place for street musicians and performers and a famous meeting place for Greeks before they go out. Turn right and find your way to Agias Eirinis Square. The square, although literally a few steps away from Monastiraki square, is little known to tourists and is still a favorite place for locals to hang out. Head to 'Lukumades', a local shop next to the square, and try one of the best Greek delicacies, 'lukumas'! The authentic recipe is with honey and nuts on the top, but you can add anything you can imagine, from Nutella to ice cream!
9 p.m. - Dinner in the vibrant neighborhood of Psyri
Walk to Monastiraki Square to enjoy the vitality of the city. Across it is the Psyri neighborhood, a favorite destination of locals at night. A lively area, Psyri has many things to offer. From industrial pubs and traditional cafés to traditional taverns with live music and cocktail bars. Stroll around its vibrant alleys and take your pick from the many excellent places to eat!
11 p.m. - Late night drinks with the locals
After you learned of tales from Greek traditional gastronomy, it is time to move on to the Greek spirits! Still in Psyri area, head to Juan Rodriguez Bar. Discover the life story of the fictional character Juan Rodriguez and enjoy unique cocktails with spirits aged in oak barrels that you can see at the bar. As the night progresses, the lights get darker, the music gets louder and the fun reaches its climax!
Tip: if you are lover of the classic cocktails, try one from their "twisted classics" category!
Day TWO
8 a.m. - Start your day with a Greek treat – 'Bougatsa'!
One of Greek's favorite breakfast meals comes from a small city on the north of the country, Serres. 'Bougatsa' is a traditional pastry that you can fill with cream, cheese or minced meat – we recommend the one with the cream! From Monastiraki square, walk to Plateia Iroon (Iroon Square) in Psyri neighborhood and order a 'bougatsa with cream' (with sugar and cinammon) at 'Bougatsadiko Thessaloniki'.
Tip: locals love to combine it with a chocolate milk.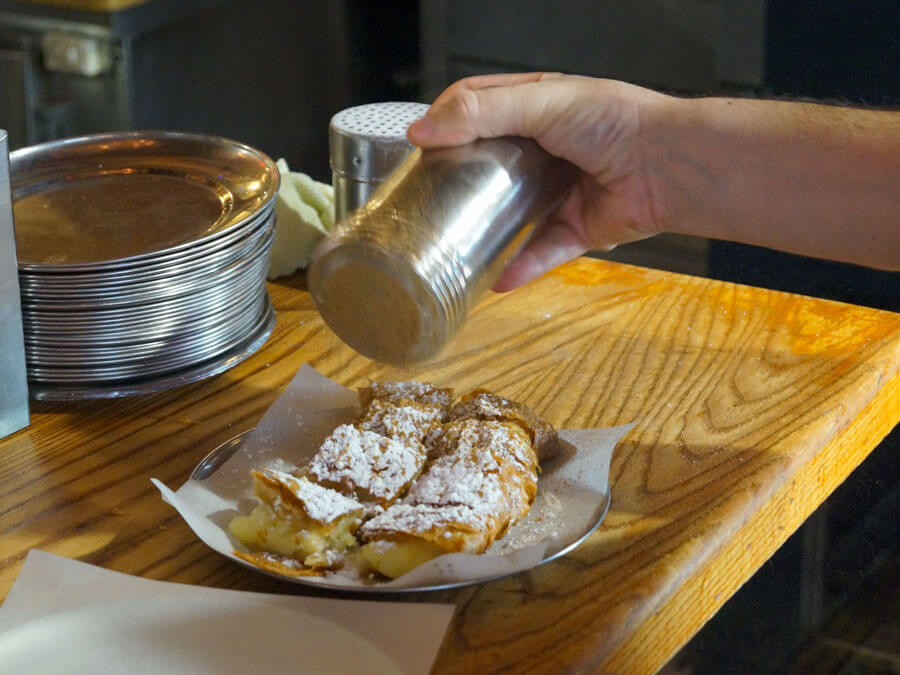 9 a.m. - Wander around Athens' Central Market
With your hunger satisfied, it is time to start exploring again. Walk on 'Athina's Street' and follow the road to the left. Shortly after, you will reach the 'Varvakios Market of Athens'. This is the central market of Athens, where you can find anything you can imagine; from fresh fish and meat to Greek spices and herbs. The market is separated in arcades, with each arcade offering a different merchandise. Wander around the countless merchant benches and see for yourself how Athens is fed.
Tip: ask the merchants to try some of their Greek spices or nuts. They are always receptive to people trying their products.
11 a.m. - Enjoy a cup of authentic Greek coffee
Right next to Varvakios Market there is a local traditional café that serves authentic Greek coffee. 'Mokka Speciality Coffee' is still using a 500-year-old technique to serve your Greek coffee that is sand-brewed!
Tip: Ask for a 'loukoumi' on the side.
12 p.m. - Explore the local vibes at Exarcheia
Make your way towards Exarcheia neighborhood, the city's most alternative area that shaped Greece's modern history. Its streets are decorated with countless graffiti with political and societal meanings. Walk the 'Valtestiou street' which has a village feel, with cozy cafés and veggie-friendly eateries. Make a quick stop at 'Rakoumel' to taste the 'raki', a strong Greek drink that comes from grapes. Continue your walk through the little alleys and streets filled with rock bars, jazz bars, anarchist bookshops and stores selling rare vinyl. When you reach 'Navarinou park', pause a bit to reflect the meaning of the gigantic graffiti on the wall. The park is self-managed, created and run by the locals.
2 p.m. - Have lunch in the stylish Kolonaki
Leaving Exarcheia area you enter another area, very much in contrast with the first. 'Kolonaki' is a neighborhood in Athens that used to be home to the high class, with expensive stores of international labels and Greek designers boutiques. Head towards Kolonaki Square and watch the locals, dressed fancy, enjoying their coffee or meal in one of the spots that line the street and remind many people of Paris. From there, walk up the 'Patriarchou Ioakim Street' for about 6 minutes and enter 'Oikeio' for lunch. It is a local restaurant that offers simple and delicious meals in a very beautifully decorated environment.
Tip: try their home-cooked dishes and their red wine
5 p.m. - Visit the cultural heart of modern Athens
After your meal, head down to Syntagma Square and hop on the free bus to Stavros Niarchos Foundation Cultural Center (SNFCC). The SNFCC is the new cultural center of Athens, housing the new National Library of Greece and the new Greek National Opera. It is a vast area offering many things to do; it even has a long artificial lake where you can do rowing or ice-skating during winter. There is also a huge garden with plants and herbs that flourish in the Mediterranean. Walk in the pathways of the garden and explore what secrets and activities are hidden between the trees. If it is summer, there might even be a summer cinema or a free concert at the main opening of the garden!
Tip: bring along a small blanket or a tablecloth and enjoy a picnic in the garden as you watch the beautiful sunset.
9 p.m. - Dinner with a spectacular view of the Acropolis
Hop on the free bus again and hop off in Syntagma Square. Walk down the 'Mitropoleos Street' and climb the stairs to the roof garden of Zillers. It is a favorite new spot for locals to enjoy contemporary Greek cuisine with the eternal beauty of Acropolis on sight.
Tip: you may need to reserve a table in advance if you are visiting on a Friday or Saturday.
11 p.m. - Watch a movie under the stars
After your meal, head to 'Thision Open Air Cinema' to watch a movie with a majestic view. Voted as the best open air cinema in the world by CNN, Thision cinema is a timeless jewl of Athens and a favorite destination of locals during summer nights. Situated just under the Acropolis Hill, you enjoy the view of the illuminated Holy Rock while you watch the movie. The late night screening starts at 11 p.m.; if there is full moon too… well, let's just say there are not many things in this world that can beat that experience!
1 a.m. - Experience Athens by night
Your movie is over but the night is still long. Athenians like to go out late at night till early in the morning. Exiting Thision Cinema, follow Dionysiou Areopageitou street to the left. The street is very beautiful at night, with many people enjoying a night walk, friends gathing around benches for drinks and street artists giving that little extra something. When you reach Ermou street turn left until you reach the area of Gazi, where Kerameikos Metro Station is situated. Gazi is a lively neighborhood of Athens at night with many bars and clubs. A popular hangout for Athenians is 'Hoxton'. If it is Saturday night you are in for a treat! There is always a local band playing jazz or rock music live. Just next to it there is 'Gazarte', a famous rooftop bar offering an excellent view of the Technopolis. Enjoy your drink while you are taking in all the new experiences you had the past two days. Athens has still much to offer, so make sure to visit again!
If you liked our insider guide on how to spend 2 days in Athens like a local, have also in mind the 10 things to do in Athens on a rainy day, just in case. If you are a foodie, this list with the 10 traditional Greek foods and drinks to try will surely be of great help to you. Finally, if you are an Instagram addict or a photography lover, check the best photo locations in Athens.