How to get to Athens city center by Metro
The first way to get to the city center from the International Airport of Athens is by Metro (subway). The metro station is located a couple of minutes away after you exit the airport gate. You can buy your ticket from the machines or get assistance from the ticket office. The cost of the ticket is 9,00 EUR or 16,00 EUR if you buy the 2-way. If you plan on using the metro regularly, you should definitely buy the 3-day tourist ticket which costs 20,00 EUR. This is valid for 3 days for all transport methods in Athens and it also includes a 2-way trip from and to the Athens International Airport by the Metro or the respective EXPRESS bus lines. There is a metro about every 8 minutes starting from the airport towards the Athens city center. You can reach Syntagma Square, without a change, in about 35-40 minutes.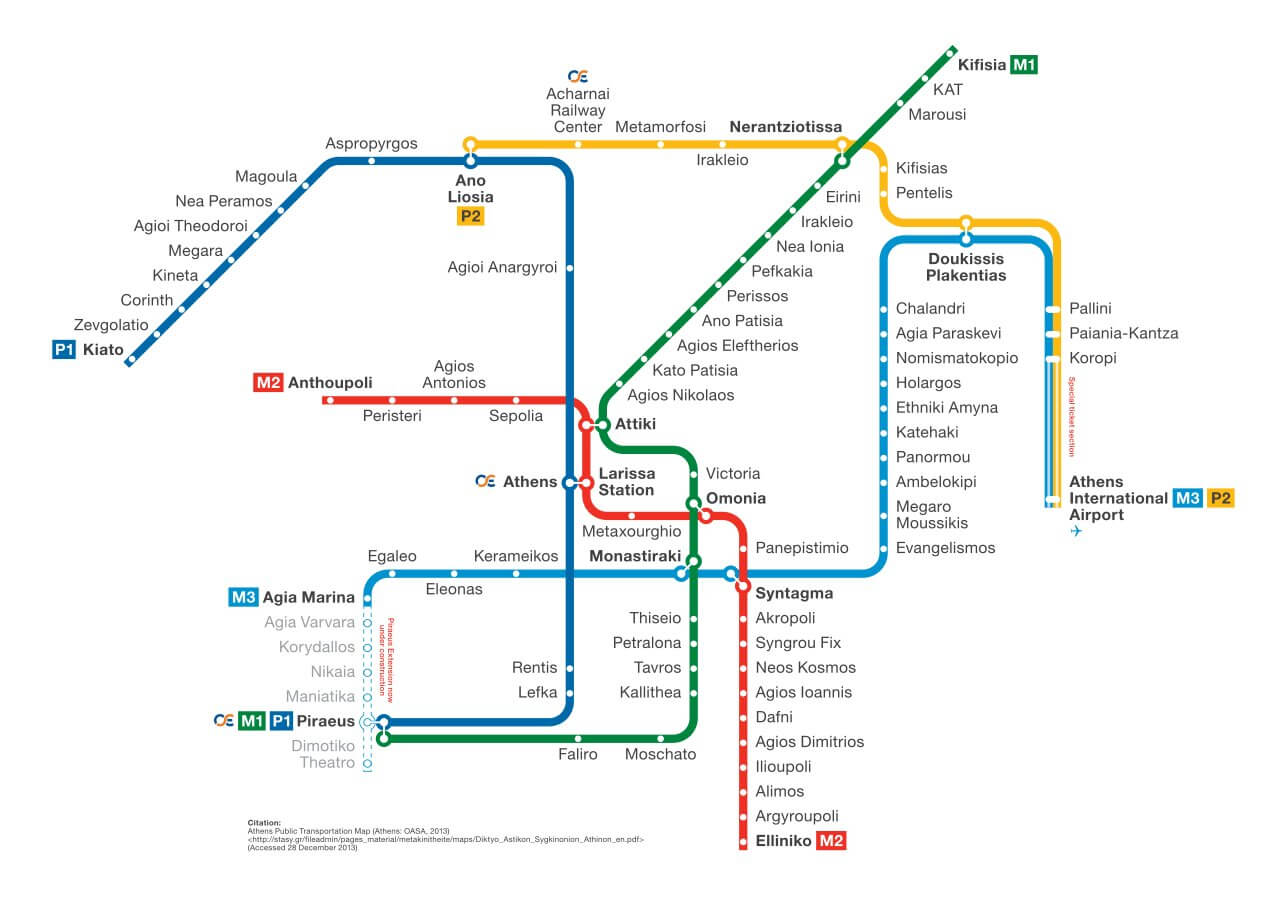 How to get to Athens city center by Bus
Alternatively, you can get the bus from the bus station right in front of the exit gate. There are four express bus routes from and to Athens airport (X95, X96, X93, X97). All bus routes are available 24 hours a day - 7 days a week. The buses leave every 30 to 60 minutes depending on the route. If you need to get to Athens city center, then you need to take the bus X95 to Syntagma Square. There are only one-way tickets and one costs 6,00 EUR. If you plan to use public transport regularly, you should buy the 3-day tourist ticket at 20,00 EUR (this includes the metro as well). Depending on traffic, you can be in the city center in about 40-70 minutes.
Athens airport to city center by Taxi
If you don't like public transportation or you don't want to lose much time in transit, you can grab a taxi from the airport. There is a taxi station right outside the Arrivals gate and there is no need to pre-book one. There are always many available. The ride to the Athens city center costs about 35 EUR (you should ask beforehand how much it will be to your destination - this way you may avoid situations where the driver takes longer routes).
Private transfer from the airport
If you wish to travel in comfort and have ease of mind, you can arrange your own private transfer from the airport to the city center of Athens. Contact us to arrange for a professional driver to wait for you at the Arrivals gate holding a sign with your name on it. The car is going to be a luxury Mercedes car or van (depending on how many persons you are) and he is going to drop you off right in front of your hotel in the city center of Athens or any other place you are visiting.
Hint! Once in Athens, your journey has just begun! There are plenty of things to do and see in the capital of Greece, from an Acropolis guided tour to a storytelling food tasting tour. Let us know what your interests are and our local experts will create a bespoke, tailor-made itinerary just for you.
About the author: Our team at Greek TravelTellers consists of academics and lovers of Greek culture. Our vision is to convey our knowledge and Greek values through unique tours and experiences. Through our blog, we hope to bring Greek history and culture closer to you. Feel free to learn more about us.