1. Grab your breakfast to go
Athenians and Greeks in general do not value breakfast that much. They prefer to gain more sleep and head to work immediately, than wake up earlier to prepare a rich meal. On the way to work, they grab something to go from a local bakery. This could be a cheese pie, a spinach pie, or a mpougatsa (you should definitely try a sweet mpougatsa!). But the most famous and common breakfast for the Athenians is the koulouri (also known as Thessaloniki bun). When you walk the street of Athens, you will surely stumble upon many street vendors with their yellow stands, selling this round delicacy. Rich in energy, it can keep Athenians going till their lunch! And any true local would accompany this bun with their favorite coffee (freddo espresso in the warm months).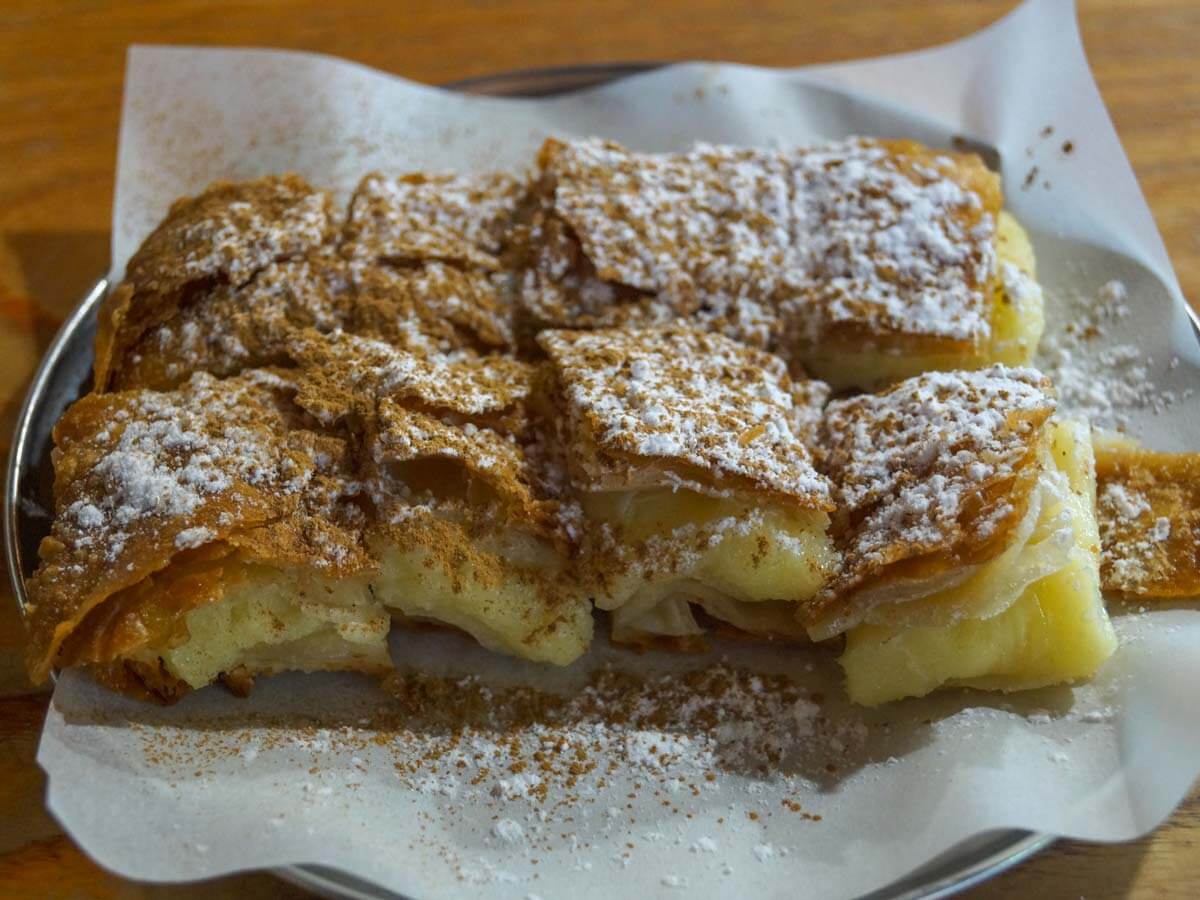 So, to experience eating in Athens like a local, leave your hotel without breakfast and grab a koulouri from the street or a pie from a local bakery. Get a coffee as well and start the exploration of the Athenian sights in style! If you're looking for the best mpougatsa in the center, head to Bougatsadiko Thessaloniki, in Psyri.
You may also like:
2. Eat as you walk
Welcome to the culture of enjoying "street food" in the rhythms of the city. Thousands of Athenians show us the way to enjoy a fast meal "on the road", which is filled daily with flavors, aromas and colors. Whether it is a good souvlaki or a good falafel, street food is a trend that has come to stay on the gastronomic map of Athens. And by all means, we do not mean "fast food". Street souvlaki, juicy burgers, handmade peinirli, spicy falafel, freshly baked pies, noodles… so many suggestions for a rich and tasty meal! And of course, as many sweet delicacies as you can imagine. Grab a delicious meal that looks the most delicious at the time and continue your exploration of Athens without stop!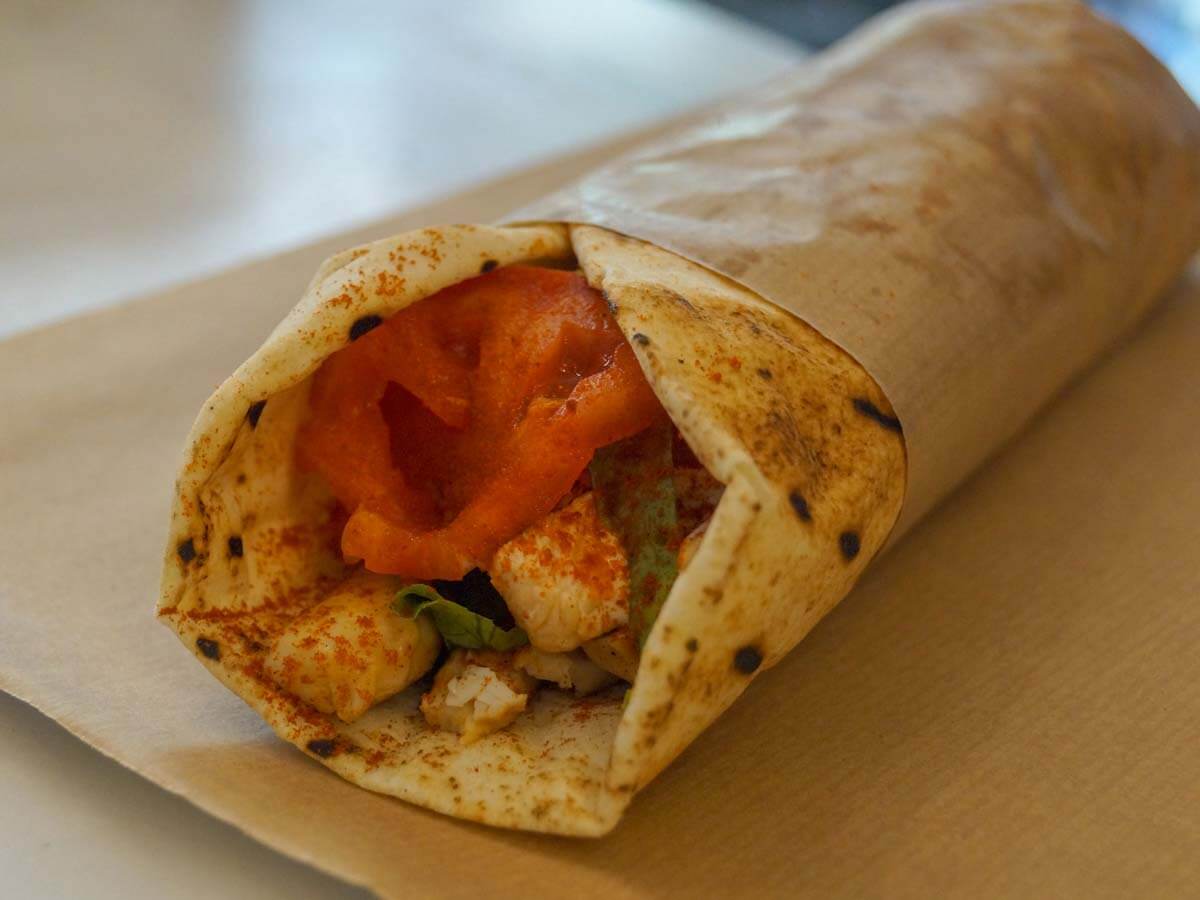 You will find souvlaki stores or street food places everywhere in the center. If you find yourselves near Monastiraki then visit the 'hidden' Agias Eirinis square and you will find Kostas. It may be one of the smallest shops you have seen, but you will surely never forget the taste of Kosta's Souvlaki.
3. If you want to eat like a local, the later the better
A look at the travel manuals is enough to confirm that almost everyone prioritizes the following information: Greeks eat late! In fact, Greeks eat their dinner very late at night. If you visit the local taverns before 10 pm it is probable you won't find any locals there. Don't worry, it is only because it is too early for them. If you want to feel like a local, take a good afternoon nap and leave your hotel late. Choose a tavern of your taste and enjoy the local vibes Athens has to offer.
Enjoy the old Athens, the owner with the notebook (not an e-pad), the table with the oil paste and the retsina, the glasses with the wine that are constantly clicking, and the wishes that are being exchanged in every click, the cutlery that is crossing over the plates, the warmth in the eyes of the participants, while in a corner there are musicians playing old traditional music for you to sing. Do not look at your watch. This is so non-local! Eat, drink, enjoy the music and the noise, laugh, relax, drink again, and you will know when the time is to leave. A place where you can enjoy the above experience in the center of Athens is Platanos, in Plaka, or Peinaleon in Exarcheia district. But you can find more as you walk the alleys of Athens and especially Psyri neighborhood!
4. Dine in "mageiria"
Athenians (and Greeks in general) love their so-called "granny's food". This homemade food is rich in tradition and flavors! It is made with care, love and a focus on taste. Of course, everything begins with the raw materials. Greece offers a rich variety of raw materials (both vegetables and fish and meat). The cooking comes next. Meals cooked with love and with a positive, caring vibe cannot fail you! A true cook's success is to create memories with the food he offers. And homemade food in Greece is all about memories.
To gain this experience and eat like a local in Athens, head to one of the "mageiria" in town. These are homelike little taverns, usually owned by old people who still love to cook traditionally and offer their own memories through their food. Most mageiria are underground and easy to be missed when you walk in the busy streets of Athens. But once you enter one, you will discover great food, a cozy atmosphere, and wine barrels that smell of nostalgia of the old Athens.
One of the most characteristic mageiria in the city is Diporto, at the corner of Sokratous and Theatrou Streets. It is underground and you will realize soon enough the stars of the place are the large wine barrels that adorn the space. It serves legumes, fresh fish (whatever the local market has fresh on the day), soups and authentic "rustic" food. Make sure to try it out!
5. Bite like a local: Meze and Drinks
Meze with ouzo is a way of life for us Greeks. Meze consists of many different little dishes and combines wonderfully with the taste of ouzo/tsipouro/raki! Greeks eat from early in midday and start enjoying their meze at a seaside tavern. We can stay there, eating, drinking and discussing, till late in the evening! It is a ritual, not a meal. It's all about the company and the sharing.
As it encloses the Greek culture of being around good company, relaxed mood and beautiful life, the enjoyment of meze is an integral part of our cultural identity. Now, in simpler words, meze is the finger food of the Greeks. In the original sense, it means a prelude to a meal, something that matches the spirits we mentioned above and whets the appetite, something that comes straight from the shelf, the cellar or the market, or the stand of the local fish market, something that precludes cooking.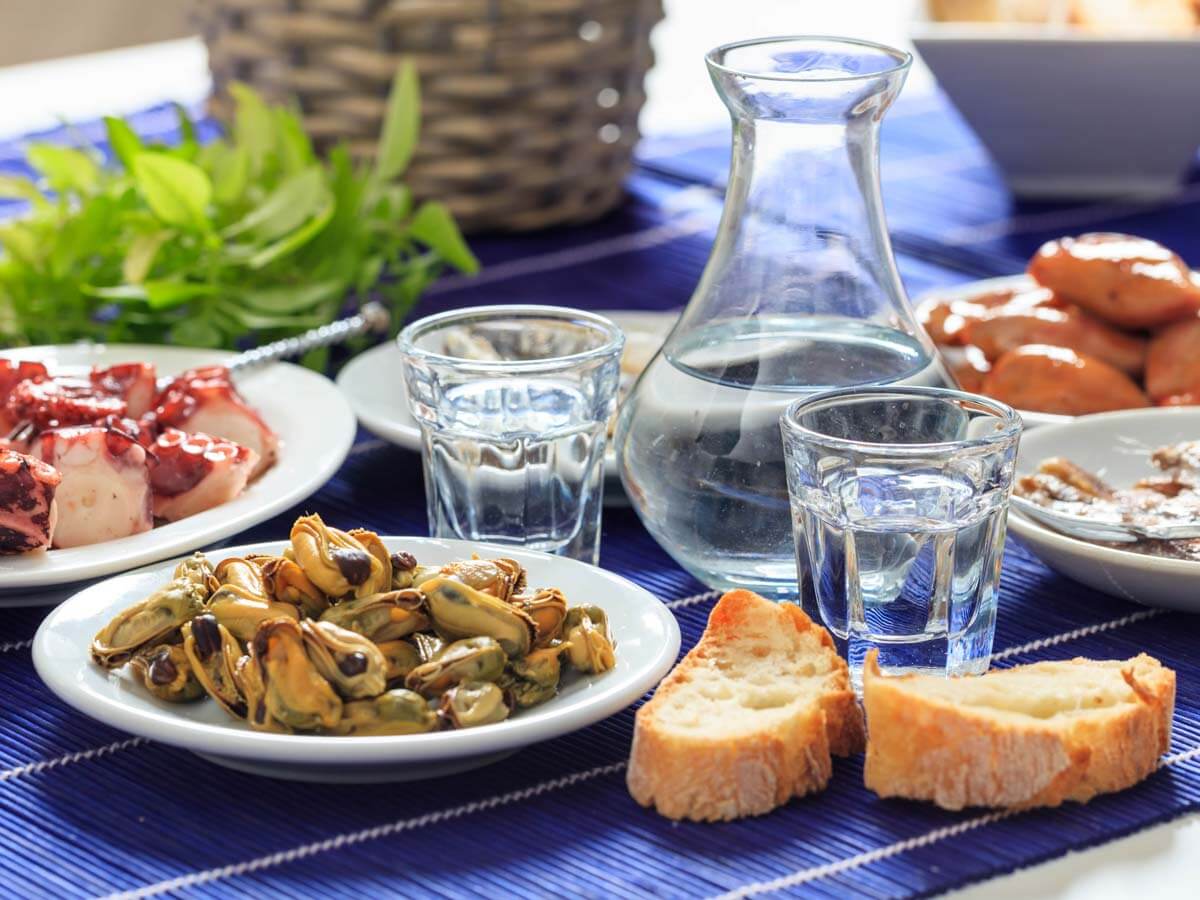 The meze is mainly socialization, relaxation, enjoyment. Life contains many aromas and endless flavors just as the meze does. A great place to enjoy meze is the seaside tavern of Nautikos Omilos in Floisvos. If you're looking for a similar place in the center of Athens, head to Karamanlidika tou Fani, in Psyri.
If you wish to plan your whole trip to Greece around food, have a look at our curated trip "Greece for Foodies: A Gastronomic Odyssey", which can be customized for you.
About the author: Our team at Greek TravelTellers consists of academics and lovers of Greek culture. Our vision is to convey our knowledge and Greek values through unique tours and experiences. Through our blog, we hope to bring Greek history and culture closer to you. Feel free to learn more about us.