1. Athens transforms into a Winter Wonderland!
Coming December, Athens becomes the heart of winter festivities and celebrations in Greece! Ice-skating rinks are popping up everywhere. From Syntagma square to Gazi, children of all ages are living their dream on the ice! Athens' largest cultural jewel, Stavros Niarchos Foundation Cultural Center (SNFCC), is having the biggest ice-skating rink and it is free for everyone. So, take the whole family and ice-skate away! The Christmas Theater is Athens' largest theater. Every year it hosts performances that aspire to travel us to the most beautiful Christmas destinations of the world. Outside the Christmas Theater you will find a unique "village" with wooden houses offering sweet and savory flavors. Technopolis in Gazi district is the biggest themed park in Athens this time of the year! The elves never sit quietly... They work non-stop for a whole year, making toys and crafting surprises, to spread love and joy to all children and parents!
Tip: if you wish to visit the SNFCC for ice-skating, make sure to register online in advance via their website. Registration is free but mandatory.
2. Christmas is all around!
December is equivalent to Christmas and Athens has a vast tradition regarding Christmas holidays! If you see little children running around with triangles signing on Christmas Eve, it is because they were waiting all year for this day! In Greece, children sing the Christmas carols accompanied by their little iron triangles. On December 24th, early in the morning, they go door to door asking "Shall we?". If your answer is yes, then they will sing the carols for you and you will give them a small gift (usually some coins and chocolates or sweets). Don't be surprised if walking down the Syntagma Square find yourselves in front of a large boat made of fairy lights! The decoration of the Christmas tree was not a Greek custom. It is said that the first Christmas tree in Greece was decorated by the Bavarian King Otto in 1833. Today, most Greeks decorate a tree, but the traditional Christmas decoration is a boat, something you will still find in the Greek islands. The boat symbolizes the maritime identity of the country. The Greeks, as seafaring people, certainly combined Christmas celebration with the sea! A not-to-miss experience this time of year is the special food… Melomakarona is a sweet made from flour, olive oil and honey. It is a traditional sweet made mainly before and during Christmas. Kourabiedes are traditional pastries made during holiday season in Greece. They are buttered cookies with almonds, covered with powdered sugar. And of course, in New Year's Eve we have the Vasilopita, which is a word meaning the cake of Vasilis (the Greek Santa). We cut and serve it with the New Year, and whoever finds the hidden coin inside will have luck for the whole new year!
3. Enjoy the authentic, local character of the city
If you ever visited Athens during summer, you may have noticed the lack of the locals, especially in August. It's not because you are visiting touristic areas, it is because all Greeks are taking their vacation leave during summer and the few who stay in the city don't like wandering around its streets in the heat. By choosing to visit Athens in December though, you will have the opportunity to know the real vibrant rhythm of the Greek capital, with the locals all around you. After your sightseeing or shopping is done, relax with a steaming cup of coffee, beautiful music, warm atmosphere, raindrops on the glazed windows; enjoy your beverage at the local hangouts, be cheerful and cold no more! Eat a warm traditional winter dinner at the local taverns called "mageiria" and feel the local vibes. Follow the pulse of music, dance, hang out with many owners and enjoy the music! You will find locals dressed in warm clothes sitting at a few tables left outside or inside the cozy bars for after-work drinks. The many bars in the narrow alleys of Kolokotroni street will surprise you with the energy of the locals enjoying their cocktails, socializing, singing and - not a few times - dancing! All you have to do is blend in!
4. Winter not-to-miss destinations from Athens
Winter is here and Parnitha is the best choice for hiking if you are seeking for a short day trip from Athens! The forest of Parnitha will enchant you with its beauty and give you countless moments with unforgettable captions. At the end of the stroll visit the Bafi Shelter for handmade rustic pies, home-cooked food and hot drinks. Going a little further away, less than 3 hours away from Athens you will find the magical mountain villages of Dimitsana and Vytina. Old stone mansions, distinctive architecture, with the region's famous black marble dominating, with lovely and lively cafés, bars and shops with local products. And last but not least, the favorite winter destination for Athenians - the so called "Mykonos" of winter time – Arachova! It is a traditional mountain village with beautiful stone houses, narrow alleys, springs and fresh air just 10 minutes away from the famous Oracle of Delphi! Walk through the city and admire the architecture of the old houses with stone walls and traditional tiled roofs. On the main street of Arachova you will find many shops with winter clothes and ski equipment since the winter ski resort of Mount Parnassus is located close. You will also discover little shops with local products (formela cheese, handmade noodles, local sausages, local honey, tsipouro and brass wine), cafés, bars and traditional taverns.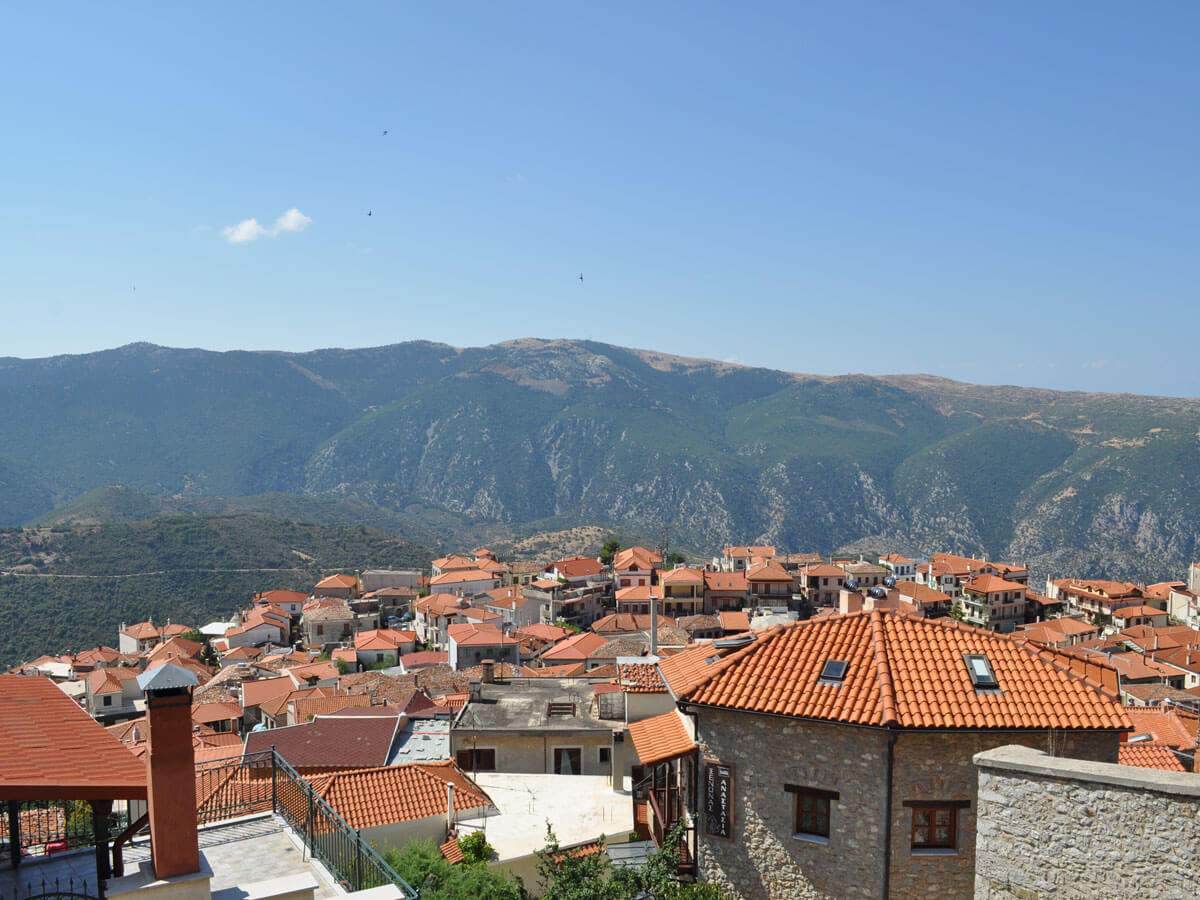 We are romantics and we have already started counting down to Christmas, looking for cozy hangouts with Christmas atmosphere. A glass of hot wine or brandy, a mug of hot chocolate, a warm taste of rakomelo, a plate of hot soup and freshly baked buns are few of the reasons that put us in this December's mood! Ho ho ho!